ANKARA (Reuters) - Turkey has to re-interpret its principles of secularism to adapt to a changing society, an AK Party member in charge of drafting a new constitution said, joining a growing debate over the Muslim country's identity.
Turkey, a rising regional power which aspires to join the European Union, was founded by Kemal Ataturk as a secular republic on the ruins of the Ottoman Empire after World War I. But a power shift led by a new middle class of observant Muslims which forms the backbone of the AKP government is challenging Turkey's ability to reconcile Islam and secularism.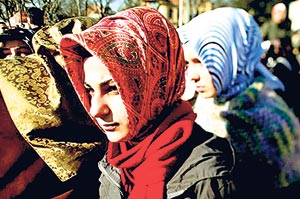 Headscarf issue slowly being solved
In the latest twist of a long-running dispute, Turkey's Higher Education Board last week ordered Istanbul University, one of Turkey's biggest, to stop teachers from expelling female students who wear the Muslim headscarf from classes.
The headscarf, banned at university and public institutions, is one of the most touchy issues in the culture wars. "We respect Turkey's principles of secularism, but these need to be re-interpreted," said Burhan Kuzu, chairman of the constitutional commission in parliament, controlled by the AKP.
"The headscarf issue for example is not about secularism, but about individual liberties. Turkey's new constitution should focus on democratic values and individual rights," he said.
Prime Minister Tayyip Erdogan, who comfortably won a referendum last month on government-sponsored constitutional reforms, has declared plans for a brand-new constitution to replace one written in the aftermath of a 1980 military coup.
The AKP evolved from banned Islamist parties and is mistrusted by rivals, who suspect it wants to roll back secularism and introduce sharia. In an interview with Reuters, Kuzu repeated the party's stance that charges it has a hidden agenda are scare-mongering tactics. He said a new draft charter, which should be unveiled after a June election, should have consensus.
"AK has been in power since 2002 and there is not a single incident of the government interfering in people's lifestyle."
Pressure
The party describes itself as akin to Europe's conservative Christian Democrat parties, liberal on economic policies but conservative on social issues. Erdogan's wife wears a headscarf.
Secularists, dominant until the advent of the party, fear increasing social conservatism and "neighbourhood pressure" will force change on Turkey and that an end to the headscarf ban in colleges will open the gates to rapid Islamisation of society.
Higher Education Board chief Yusuf Ozcan said he was equally determined to defend the rights of students with no headscarves.
Gungor Mengi, the editor of liberal Vatan daily wrote: "Ozcan's guarantee is proof that he agrees with the risk that such a pressure on uncovered girls exist." Such a debate would have been unthinkable a few years ago.
The military, the self-proclaimed guardian of secularism, has ousted four elected governments. An attempt by the AKP to lift the headscarf ban nearly three years ago almost led to the party being closed down by the Constitutional Court.
But the generals' powers have been clipped by reforms aimed at bringing Turkey closer to the EU.
Kemal Kilicdaroglu, leader of the secular opposition, said he was willing to find a solution to the headscarf problem.
With symbols of Islam becoming more common, there is speculation about whether the generals will attend a reception at the presidential palace to mark National Day on Oct. 29.
President Abdullah Gul, whose wife also wears a headscarf, normally holds two separate receptions to avoid having the generals shake hands with his covered wife, but this year Gul reportedly plans to hold just one event.