LONDON, Oct 15, 2010 (AFP) -The commander of NATO forces in Afghanistan, US General David Petraeus, admitted Friday that western troops have facilitated the safe passage of Taliban leaders to Kabul for talks with the government.
US and International Security Assistance Force (ISAF) troops had helped insurgent commanders get to the Afghan capital as part of its support for Afghan President Hamid Karzai's negotiations with the rebels, he said.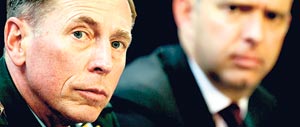 U.S. Army General David Petraeus (L) addresses, with NATO's Senior Civilian Representative in Afghanistan, Britain's Mark Sedwill, member of the Royal United Services Institute (RUSI), in central London October 15, 2010.(REUTERS)
"There are certain ongoing initiatives in that regard," Petraeus told an audience at the Royal United Services Institute in central London when asked about the state of negotiations with the hardline Islamist movement.
"And indeed in certain respects we do facilitate that, given that, needless to say, it would not be the easiest of tasks for a senior Taliban commander to enter Afghanistan and make his way to Kabul if ISAF were not witlling and therefore aware of it and allows it to take place," Petraeus said.
Karzai this month launched the High Council for Peace, the latest effort to persuade the Taliban and other insurgents to negotiate an end to the war which has entered its 10th year. The Taliban on Wednesday denied a claim they were taking part in the talks.
But Petraeus, who also led the US "surge" in Iraq in 2007, said a number of key figures from the Taliban had also made contact with foreign forces in Afghanistan as well as with local authorities.
On the death of a British aid worker suspected of having been accidentally killed by a US special forces soldier during a rescue mission in Afghanistan, Petraeus said he was making the investigation a "priority."