Sydney -Faithful Catholics and victims of sex abuse are both claiming Australia's first saint to be canonized on October 17, as their own Feisty, anti-authoritarian, a lover of the bush, a friend of Aborigines and a champion of a "fair go" for the needy.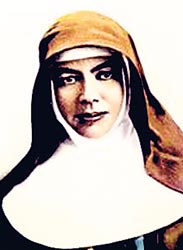 Sister Mary MacKillop was briefly excommunicated from the Church
Were Australians to come up with the qualities they most wanted in their first saint, many would find themselves describing Sister Mary MacKillop. Sister Mary MacKillop --an Australian nun-- who is to be canonized a saint was in fact excommunicated from the Roman Catholic Church and there is evidence to support the claim that it was because of her part in the exposure of a priest accused of abusing children in a parish north of Adelaide.
While faithful members of the Catholic Church in Australia are claiming her as their own, victims of clerical abuse say she should become their patron saint. The daughter of Scottish immigrants, who was born in Melbourne in 1842, she devoted her early life to teaching children in the small South Australian community of Penola, where she came to be regarded as something of an educational pioneer.
It was in Penola that she also founded an order of nuns, Sisters of St Joseph of the Sacred Heart, who were dedicated to helping the poor and opening up more schools in the bush. The Vatican credits her with two miracles, the second of which was the cure of a woman suffering from terminal cancer.
All week, pilgrims have been converging on the chapel and museum at the site in North Sydney where she died and paying homage to her life and memory. "She was very Australian," says Sister Monica Cavanagh. "Very feisty and very tough. She certainly knew how to hold her ground - perhaps a bit of her Scottish heritage was coming out there - and when there was an important issue on the table, she stood up for the justice of that situation." (BBC NEWS)