PARIS, Oct 16 (Reuters)Striking French oil refinery workers shut down a fuel pipeline supplying Paris and its airports on Friday and airport workers grounded some flights as protests mounted to derail an unpopular pension reform.
Officials say there is enough fuel reserves to outlast the strikes. BBC reported thousands of students were expected to join union workers in demonstrations in Paris and several other cities against plans to raise the retirement age.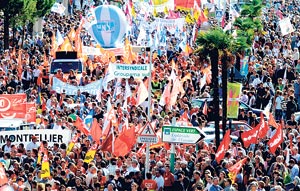 The strikes have blockaded oil refineries and depots, leading to fears of fuel shortages
The main trucking union called on drivers to join Tuesday's strike, although they may not be able to use their companies' vehicles to block roads.
The widening protests have become the biggest challenge facing President Nicolas Sarkozy, who is struggling with low popularity ratings as he tries to appease financial markets by stemming a ballooning pension shortfall.
A nationwide strike that could hit various industries is planned for Tuesday, a day before the Senate is due to vote on a bill to make people work longer for their pensions.
One of the main unions representing Air France workers called for three days of strikes from Monday. The company operating a key fuel pipeline from Le Havre in northern France to Paris said a refinery strike had cut supply to the capital. A spokeswoman for Paris airport operator ADP said they had several days of fuel stocks.
The best chance Sarkozy's opponents have of bringing down his pension bill is if strikes at oil refineries continue and start to threaten fuel supply, or if youths hit the streets en masse and set off violent scuffles.