Rakitha Perera and Sahan Ratnayake came through their two semifinal boys under 19 matches at the Junior National Badminton Championships, held at the Sri Lankan Badminton Association courts yesterday, to set up an all Ananda College final.
Perera was clinical in his destruction of L. Dixon from D.S Senanayake, calmly dismantling him in straight sets 21-14, 21-9. Dixon stood no chance against the faster Perera, who executed his strokes with deadly accuracy, picking out the corners of the court with great ease.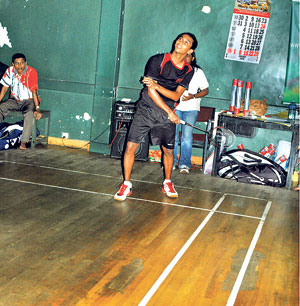 Rakitha Perera from Ananda College made it into the Under 19 Boys' Finals. (Pic by Ranjith Perera)
As the final set progressed it looked highly unlikely that Dixon would stage any comeback into the match as he seemed to have nothing left in the tank and eventually inevitably conceded the match.
The other semifinal between Sahan Ratnayake and C. Minimuthu proved to be a more closely contested affair. After a one sided first set, which Sahan took 21-13, Minimuthu stormed back to make things interesting, smashing the ball in to the corner to give him the second set 21-16. In the decisive third set Ratnayake took hold of proceedings and shut out the match 21-11.
The under 17 boys singles also provided another fierce battle between two evenly matched opponents, when Harindu Hettiarachchi from Royal took on Vibavi Madushan from Alethea International School.
Hettiarachchi played the first set very calmly, working his man around the court before emphatically smashing the shuttlecock past the helpless Madushan. A few minutes into the first set and Hettiaratchi had raced to a 17-12 lead. Afterwards Madushan won only one more point before Hettiaratchi raced to clinch the first set 21-13.
Madushan then composed himself and surged back into the match during the second set. Eventually things were tied at nine games all but Madushan then roared to life quite literally, working the shuttle around brilliantly before deftly sneaking it over the net and letting out a loud shout when he took the set 21-15.
The third set was an even battle and both boys pulled off impressive points, but eventually Madushan held on to secure the set 21-17 and book a place in the finals. He will meet Omal Vishwanath from S. Thomas' College who enjoyed a straightforward 21-13, 21-10 victory over Damith Yatawara from D.S Senanayake.
The Boys and Girl's Singles and Doubles finals for each age group will be played today at S. Thomas' College starting in the morning.