Unseeded Vimuktha de Alwis made steady progress in the men's singles event at the 95th National Tennis Championship continued at the SLTA hard courts yesterday. He first had a cake walk victory over M.A. Shaakir in the first round without giving away any points.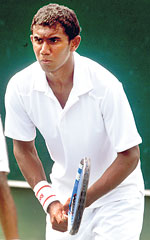 Vimuktha de Alwis in action at SLTA courts yesterday ( Pic Ranjith Perera)
Later, De Alwis defeated fourth seed Shehan Gomesz also in straight sets to enter the semi-final. He took the first set 6/0 but gave away three points in the second set and two points in the third set in the best of five sets match.
Unfortunately for De Alwis he will now meet top seed Harshana Godamanne in the semi-final and it will be interesting to see how he will handle the leading player of Sri Lanka. Unseeded Artha Hewacottage created an upset when he defeated eighth seed Ashan Dep also in straight sets. Hewacottage won the first two sets on 6/2, 6/1 and Dep retired without going in to the third set.
In another upset, the unseeded Guyanga Weerasekera and Vimuktha de Alwis beat bottom seeds Sankha Athukorale and Rukmal Cooray in a five setter match. The match went to two games each and the final set was won 9/7 on the no advantage basis.
Thisuri Molligoda and Kemalie Herath have moved to the semi-finals with convincing wins over their opponents. Molligoda in particular beat Nilushi Fernando who earlier beat fourth seed Shankari Thayakaran in straight sets to enter the semi-finals.
Joining them is top seed and defending champion Amritha Muttiah who crushed Indeewari Wijesekera in straight sets.