Java World Congress will be the largest IT event in Sri Lanka in all aspects, which expects over 100,000 visitors, 500 foreign delegates, and 10 influential keynote speakers from different countries. Java World Congress will focus all ways and avenues to integrate Java Technology for the sustainable development of a country.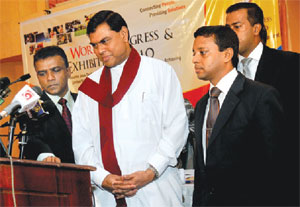 Economic Development Minister Basil Rajapaksa launching the official website of the Java World Congress and Exhibition 2010. Java World Congress and Exhibition 2010 Chairman Dilantha Withanage and Java World Congress and Exhibition Secretary General Dr. Ishantha Siribaddana look on. Picture by Rukmal Gamage
In this glamorous event, PCJT has become the Gold Sponsor. The Java World Congress was launched by the Minister of Economic Development Basil Rajapaksa at the Hotel School Auditorium of the Sri Lanka Tourist Board.
What is PCJT?
PCJT stands for Professional Certificate in Java Technology which is the first ever professional practical Java Training Programme introduced to Sri Lanka by IJTS in collaboration with the Chamber of Chartered Java Professionals International USA / Greece.
Basically, PCJT is a title which can be used behind your name after the qualification is acquired.
The first ever title which can be obtained by a candidate is PCJT-BSD. BSD stands for Business Solutions Development.
PCJT- BSD professional title can be obtained after developing the skill and knowledge of a candidate by following one year of dedicated studies and Practicals. PCJT - BSD title assures the experience, knowledge and skill of a Software Engineer to work professionally in a Standalone Application (a business solution for a small and medium scale business) Development environment of an IT Company.
PCJT - BSD title also guarantees the ability of a professional to develop a business solution which can be valued at Sri Lanka Rupees 30,000 to 500,000 (300 USD to 5000 USD) for the purpose of sale.
Under the other PCJT qualifications, skill and knowledge in all the high end technological areas such as Java Web Technology (J2EE), Java Mobile Technology (J2ME), Java for Robotics, Java for Intelligence Systems and Java for embedded Micro Systems can be acquired.