Sri Lankan Imalka Maddumapatabendi has a stellar international career ahead after excelling at the International College of Hotel Management (ICHM) in Australia. While he started at the college only in mid-2009, he has already achieved Dux of First Year and spent six months on an internship in Northern Queensland-at the Sheraton Mirage Port Douglas.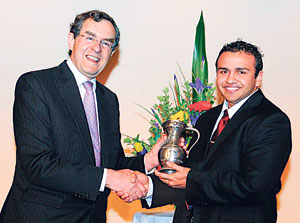 'My internship experience was very helpful not only from an academic perspective, but also the fact that they asked me to stay on longer. My study commitments with ICHM meant I couldn't take up the offer at this point. However, the good news is that they made it clear that should I wish to return after my degree the offer stands', he says.
Imalka had just started a hotel management course in Sri Lanka when he found out about ICHM. 'I always wanted to get a degree in hospitality. The study at ICHM directly caters to the international industry; my previous studies were directed locally. After being exposed to both, I'll have the ability to come up with innovative ideas to develop the operations of a hotel in a practical way', he says.
Established 18 years ago in South Australia, ICHM is the Asia-Pacific campus of the world-famous Swiss Hotel Association, providing the renowned Swiss Hotel Association International Hotel Management Diploma, which is followed by the ICHM Bachelor's degree. For every six months on campus ICHM students spend six months on paid internships in industry, which can, as in Imalka's case, take them to exotic locations.
Imalka says his life in the ICHM community is full of fun and excitement. 'ICHM has students from almost every country of the world. It gives a variety of experiences and insights into other cultures. The community is a small world by itself, full of different cultures working together and enjoying it. The multicultural experience is incomparable to any other experience I've had in my life', he says.
ICHM has a generous international scholarship programme (offered twice a year) to the value of $15,000 over the four years to Bachelor's Degree. Applications must be made in April (for the semester starting in July) and in August (for the semester starting in January). Imalka however was fortunate enough to win the Australian Government Endeavour Scholarship worth $88,000, for which Sri Lankan students are eligible.
'Selecting ICHM has been very beneficial to me', says Imalka. 'It will give me a recognized qualification with a worldwide reputation. Furthermore, at ICHM I have created a network of contacts and friends across the world, which will benefit me personally and professionally in the future.'
MORE INFORMATION: www.ichm.edu.au CRICOS Provider No.02914G. Sources: David Samuel, Australian Trade Commission, Colombo-Sri Lanka. E-mail: David.Samuel@austrade.gov.au.