The Academy of Design (AOD), South Asia's notable design campus offering undergraduate qualifications in design education in Interior, Fashion and Graphics along with National qualifications in Jewellery Design, is a dynamic advocate of Sri Lanka's creative industries.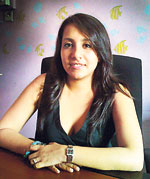 Chamindri Ganegoda's designs for the Ceylon Tobacco Company's Bungalows bear a contemporary Sri Lankan minimalism and specialty lighting to give an enhanced experience.
AOD aspires to put Sri Lanka in the forefront of global design through ventures like the Sri Lanka Design Festival, Graduate Fashion shows and exhibitions and more importantly, by producing a cohort of expert designers and design entrepreneurs leading creative businesses in many sectors.
AOD's Alumni consists of an impressive number of successful designers and creative entrepreneurs. The young interior designer Chamindri Ganegoda, who honed her creative gift through the Academy of Design's Interior Design programme, is now a successful designer with her own practice.
"Interiors and the effect they have on their inhabitants always fascinated me, and at AOD I learnt to transform this interest into a professional skill. AOD gave me the required technical knowledge, and the professional practices needed to carry out my own practice efficiently" says Chamindri.
Previous to starting her own practice Chamindri gained proficiency in project and client handling at Spacecraft (Pvt) Ltd., where she travelled overseas for international assignments and coordinated with a global clientele.
Chamindri's most recent designs were for the Ceylon Tobacco Company Bungalows in Bentota along with a personal residence re-design and refurbishment project which is currently underway.
"AOD's Interior Design programme structure sets to build a generation of interior design experts" said Joel Rapp - Head of the B.A. (Hons) Interior Design Programme at AOD. Mr. Rapp also mentioned that AOD believes in taking a globalized view of design and combining it with Sri Lanka's culture in order to build a new aesthetic and a new market range in Sri Lankan interior design.