JOHANESBURG, Aug 7 (AFP) - An official at a Nelson Mandela charity said Friday he kept suspected blood diamonds for over a decade, giving them to police only when supermodel Naomi Campbell testified at a war crimes trial.
Campbell's appearance Thursday at the trial of former Liberian dictator Charles Taylor set off speculation about the fate of the "blood diamond gift" Taylor allegedly gave her in 1997 after a celebrity dinner hosted by then South African president Nelson Mandela.
The supermodel told a court in The Hague how she received a pouch of rough diamonds as a late-night gift she assumed came from Taylor, who is charged with murder, rape and enslavement for his alleged role in the 1991-2001 civil war in Sierra Leone that claimed some 120,000 lives.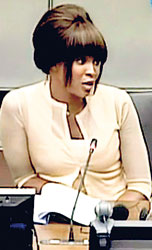 A picture grabbed on the site of the Special Tribunal for Sierra Leone shows model Naomi Campbell answering questions at the UN-backed Special Court for Sierra Leone in Leidschendam. AFP
Campbell told judges she gave the stones to Jeremy Ratcliffe, then the chief executive of the Nelson Mandela Children's Fund, to "do something good with". In a statement, Ratcliffe confirmed Friday that he kept the three uncut diamonds and never gave them to the charity.
"Three small uncut diamonds were given to me by Naomi Campbell on the Blue Train on September 26, 1997," Ratcliffe said, referring to the luxury train he travelled on with Campbell and other guests of Mandela.
Campbell had wanted the fund to use them, but Ratcliffe said he did not want to involve the charity in any possible illegal activities. "In the end I decided I should just keep them," he said, but added that he recently handed them over to South African authorities.
Police confirmed they received the stones on Thursday. "They were handed over to the police and now they have been sent to the diamond board for authentication," said Musa Zondi, spokesman for the special investigations unit of the South African police.
"Obviously there has to be an investigation, but first we have to wait and get the diamonds authenticated before we can say anything," Zondi told AFP. "We have to get them authenticated because the authentication will tell us where they come from."Ratcliffe, who is no longer chief executive of the Children's Fund but is still a trustee, said in his statement he is willing to testify in Taylor's trial if the court calls him as a witness.
"I am happy to testify should the International Criminal Court at The Hague request it of me," he said.
The court said prosecutors would have to file a motion to reopen their case in order to call Ratcliffe as a witness, and that no such motion has been filed.
"There has been no contact between the OTP (office of the prosecutor) and Mr Ratcliffe," court spokesman Peter Andersen told AFP.
Prosecutors said they had not made contact with Ratcliffe nor he with them, but added, "He is welcome to do so."Taylor, 62, is accused of receiving illegally mined "blood diamonds" in return for arming rebels who murdered, raped and maimed Sierra Leone civilians during the country's civil war, cutting off their limbs and carving initials into their bodies.
After a lull in media interest in Taylor's three-year old trial, dozens of journalists from around the world descended on The Hague for Campbell's testimony. Prosecutors had subpoenaed Campbell in a bid to cast doubt on Taylor's credibility and to try to disprove his claim he never possessed rough diamonds.