MOSCOW, Aug 7, (AFP) -Wearing sanitary masks or clutching wet rags to their faces, residents of Moscow struggled round the city Saturday as the worst smog in living memory from wildfires enveloped the Russian capital.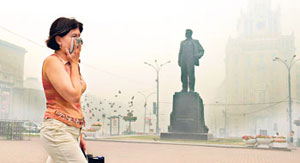 A Russian woman uses a handkerchief to cover her face, protecting herself from forest fire smog, in central Moscow. AFP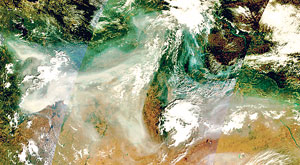 A view captured on August 4, by the Moderate Resolution Imaging Spectroradiometer (MODIS) of the fires and the full extent of the smoke plume, in three consecutive overpasses on NASA's Terra satellite. The smooth gray-brown smoke hangs over the Russian landscape, completely obscuring the ground in places. The image shows the full extent of the smoke plume, spanning about 3,000 kilometers (1,860 miles) from east to west. If the smoke were in the United States, it would extend approximately from San Francisco to Chicago.
The concentration of toxic particles was up to five times higher than safe levels, experts warned, as the city's iconic landmarks like the Kremlin and golden church cupolas disappeared behind a layer of smoke. Drivers put on their headlights in broad daylight to see through the acrid smog that had descended on the capital while the sun shone as a hazy disc easily viewed by the naked eye with little discomfort.
The smoke penetrated into homes and offices and was even visible inside the Moscow metro, one of the deepest underground systems in the world.
"The situation is truly extreme. People are in circumstances under which they should not have to live," leading Russian doctor Ivan Yurlov of the League for the Nation's Health group told the Kommersant daily. Flights from Domodedovo, one of Moscow's main international airports, were disrupted by the smog with several flights diverted to other airports and around 40 flights cancelled, state aviation committee Rosavitsia said.
"Visibility around Domodedovo is 325 metres: it is up to the captain of the aircraft to make a decision about landing," Rosaviatsia official Sergei Izvolsky told Interfax.
The other main international hub, Sheremetyevo in the north of Moscow, was working normally. With health experts warning that the best solution was to leave the city for the weekend, package tours abroad were completely sold out and there was a rush for seats on trains and planes out of the capital, news agencies said.
The levels of carbon monoxide in the air were five times higher than the maximum level acceptable for public health, state pollution watchdog Moseokmonitoring was quoted as saying in the Kommersant daily.