BANGKOK (IPS) - Civil society organisations in Burma are stepping into the minefield of pre-election activity in the military-ruled country, giving rise to possible shifts in the political landscape there.
They have been busy training potential candidates for the general election that Burma's military leaders have promised to hold in 2010, carrying out activities in areas like Rangoon, the former capital, in central Burma and in the border areas that are home to a multitude of restive ethnic minorities.
This pre-election work is being led by larger officially recognised civil society organisations (CSOs) and smaller ones working quietly to avoid detection by the authorities.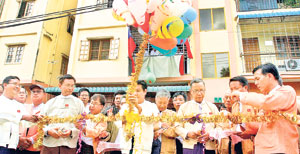 Leaders of Myanmar's newly-formed National Democratic Force (NDF) take part in an inauguration ceremony of their party office in Yangon on August 1. Experts welcomed the decision by Myanmar's ruling generals to allow the registration of the party which is made up of former members of Suu Kyi's disbanded National League for Democracy (NLD). But they said the splinter group could struggle to fill the NLD's shoes ahead of this year's election, Myanmar's first in 20 years, which is widely feared to be a sham aimed at shoring up the junta's half-century grip on power. AFP
Myanmar Egress, formed in 2006 by magazine publisher Nay Win Maung, is among the larger CSOs leading political education programmes aimed at the 44 political parties that have registered to contest the poll, whose date has yet to be announced.
Twenty of these parties are ethnic-based, a significant fact given that tenuous ceasefire accords exist between many ethnic rebel groups and the junta in Burma, also called Myanmar. "It is clear that Egress has taken the lead in political education for potential candidates, party cadres and party members," said a Rangoon-based western analyst, who declined to be identified. "They meet newly formed parties, discuss the constitution, electoral laws, a party's regulations and democratic functioning and relations between political parties and civil society organisations or the media."
CSOs in education, agriculture, health, environment and gender are also involved in getting the message of democracy out in an oppressive environment where over 2,200 political dissidents have been jailed.
"If their aim is to educate people inside the system to democratic ways and means, and to show them that civil society can and must be a partner for the government in making decisions, then this aim is clearly being served very efficiently," the analyst said in an interview from Rangoon. "The number of people involved in this non-confrontational movement, whether they join political parties or work with civil society organisations, is growing every day."
Burma reportedly has 64 non-governmental organisations and 455 officially recognised community-based associations. "(But) there are many more CSOs in the country not registered who are working to help the people. They are getting small amounts of funds from foreign governments," a Rangoon-based CSO activist told IPS on condition of anonymity.
CSOs like Egress enjoy the blessing of the military, which has ruled Burma since a 1962 coup. A provision in the 2008 constitution recognises CSOs' role to participate in the political landscape. The CSOs' foray into Burmese politics comes in the wake of their pivotal role after the massive destruction wrought by Cyclone Nargis in May 2008.
This time, the training that CSOs are giving political parties comes as a relief given the heavy odds faced by some of these parties, which could "be described as a possible opposition to the regime", says an European diplomat who handles Burmese affairs. "The list of candidates to contest nationwide is very thin because of the political risk and those who qualify as candidates are very limited."
In this context, assistance on leadership issues, campaigning skills, public speaking and political acumen will help candidates in a country that last held an election two decades ago, the diplomat told IPS. The 1990 election was won by the opposition National League for Democracy (NLD) but its results were nullified by the military.
"At least five of the parties have come to represent an opposition force, positioning themselves somewhere in the middle," the diplomat added. "They say they are not close to the NLD, making this election more complex and less black- and-white."
Among them is the National Democratic Force (NDF), a new party led by former political prisoner Than Nyein, who together with others broke away from the NLD, led by Nobel Peace laureate Aung San Suu Kyi. The split followed Suu Kyi's asking her party to boycott this year's poll due to the junta's repressive election conditions.
Other parties like the NDF, the Union Democratic Party (UDP) and the Democratic Party of Myanmar (DPM) are "very much on their own" in this contest, the diplomat added. "They are not backed by the Burmese political exiles and not supported by Aung San Suu Kyi and the NLD inside the country."
Besides the lack of support from the more recognised pro- democracy Burmese constituency and the challenge they face from a regime determined to stay in power, candidates of the NDF, UDP and the DPM have to overcome a financial burden too. Each candidate has to pay the Election Commission 500,000 kyat (500 U.S. dollars), an amount that is over half the annual wage of a middle-ranking civil servant.
Against this backdrop, exiled Burmese activists, who until now have been seen as standard bearers of the country's democracy movement, are dismissive of the CSOs' training of candidates.
"Groups like Myanmar Egress claim it is good to educate people to be part of the political process, to be involved," said Soe Aung, deputy head of foreign affairs of the Forum for Democracy in Burma, the largest network of Burmese political exiles. "But such training will not help to change the situation on the ground under the current circumstances the military regime has employed."
"It is very clear that the military junta is not willing to have a free and fair election," he told IPS. "So why bother with the training of candidates?"