SYDNEY, Aug 7 (AFP) - Australian Prime Minister Julia Gillard buried the hatchet with former leader Kevin Rudd in a strained tactics meeting Saturday as claims of bitter disunity continued to dog her election campaign.
Gillard met Rudd for the first time since the ruthless June coup which saw her snatch the leadership from him in a bid to stem the ruling Labor party's ebbing popularity ahead of polls.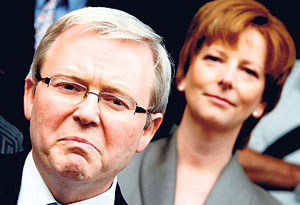 A file photo taken on December 13, 2006, shows Kevin Rudd (L) and Julia Gillard in Melbourne. AFP
Grim-faced and unable to make eye contact, the pair reconciled over maps of Queensland, Rudd's home state, where Labor is suffering an angry backlash about the coup which could see them lose office after just one term.
Gillard said they had a "positive" discussion about campaign strategy and Rudd's role, but the tension was palpable and she was unusually terse when pressed on why journalists were banned from the tightly-managed affair.
"Reality exists whether you are there or not, and the reality of this is Kevin and I had a positive and constructive discussion," Gillard said of the meeting, which was conducted behind closed doors in the presence of just one photographer and cameraman.
She dodged a question on whether she had apologised to Rudd and said Australians would ultimately vote on the issues and not the "political chatter" about divisions in the Labor party or a "picture on their TV screen".
"When Australians come to exercise their vote what they will be thinking about is 'what matters to me and my family, what matters to my future'," Gillard said.
But her admission that she and Rudd wanted to "maximise spread" in the critical fortnight before the August 21 poll and would not campaign together only fueled speculation that a rift remained and could fracture the party.
Conservative rival Tony Abbott labelled the reunion a "soap opera" and said it reinforced Labor's bitterness and disunity, accusing Gillard of being more concerned with internal bickering than with addressing national issues.
Polling published today showed a one-point shift to Labor after Rudd exploded back onto the political scene last week with a vow to support Gillard, but Abbott was still leading the election race 51 percent to 49 percent.
Gillard said Labor was in the "fight of our lives" for the country's future, but she faces a daily struggle to rise above the controversy of how she came to power and damaging leaks from within her party.
In a bizarre twist which only served to underscore Abbott's claims, embittered former Labor leader Mark Latham materialised on the campaign trail to confront Gillard with a warning that Rudd would double-cross her.
Famed for his vitriol, Latham lost the 2004 election to the conservatives and is a divisive and outspoken figure, most recently accusing Rudd of high-level leaks which badly damaged Gillard's campaign in the second week.
Latham's hatred for Rudd is well known -- he described the axed leader as "a terrible piece of work, addicted to the media and leaking" in his angry memoirs -- and his presence on the trail is an unwelcome distraction for Gillard.