One hates to bring up spilt milk, but GSP Plus is on everyone's lips again. The EU, for one, has hinted that all good things must come to an end. The Professor, who lives in cloud cuckoo land, has urged the rest of us to live in hope. The President, for another, has suggested that he doesn't care either way. Come or go, Chicago, he is reported not to have said. And anyway, we paraphrase. But you get the point, dears. The apparel industry won't be belting out the Star Spangled Banner come August, thanks very much O ye EU Commissioners! We're willing to bet our bottom dollar on that…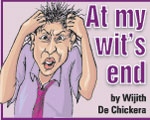 Speaking of bottom dollars, has anyone noticed that "Garments & Textiles" as a major source of foreign-exchange earnings has begun to slide since 2008? Pardon me, your slip is showing. By the same token, in 2009, forex earnings from "Overseas Workers' Remittances" drew neck and neck with the latter, formerly lucrative, forex-earnings category. In fact (probably unbeknownst to presidents, professors, and other statistically savvy patriots), remittances from Sri Lankans working overseas has been climbing steadily since 2005… Coincidence? Happenstance? "We have a saying in Chicago, Mr. Bond… The third time, it's enemy action!" So, 2005, 2006, 2007, 2008, 2009… In 2010, will the sweat of our fellow citizens labouring abroad exceed the tears of our apparel industry toiling at home? Your guess is as good as mine…
In the meantime, the Powers That Be have taken umbrage at the EU's attitude. The EU's impending embargo, they have bellowed, is politically motivated. (Really, we hadn't noticed?) If they are not prepared to give us the GSP concessions again, they can jolly well, er, keep them for good. (What a surprise, that response!) Anyway, it's time to look for new markets, no? (Ah, might India and China be what you had in mind, dears?)
All of this is very exciting indeed. Especially if you're not one of the millions of employees struggling to survive in an apparel industry that has been going down the tube since 2005. But we must learn to look on the bright side, mustn't we? The death knell of garment girls is only the knock of opportunity on the door of those who know that a Ban in the hand is worth two in the Bush. If apparel will not hack it, why, let's export something else, shall we?
Or someone else! I mean to say, has no one noticed that there are 20-plus million of us? Of course, those who are not for us are against us – so that discounts several millions! But of the, uh, dozens – nay, scores – left… cannot we employ at least a few good men and women to earn us that much-needed fistful of dollars? We're willing to wager that even those presently gainfully employed – in politics, let us say for argument's sake – will be willing to take up a new career in the job markets of the world for a few dollars more?
Stop grinning, folks, and pay attention! Until now, we have been 'exporting' labour for work such as that which may not win the jackpot in foreign exchange earnings in Western Asia or sunny Italy – which is where many if not most of our ammas and menikes and machangs go. But this is only because we have not realised that we're sitting on a gold mine in terms of the, um, human resources that we have in plenty – the type that unscrupulous employers the world over would jump at to get their hands on (try not to picture that). Richly talented are these types, and highly skilled at crafts in a way you wouldn't believe. Crafty, in a word…
Puzzled? Let us clarify. We mean the plethora of pencil pushers and clock watchers who can be exported to the tardy bureaucracies of the globe. We intend the panoply of tin-pot tyrants and crackpot civil servants who would do admirably to staff the presidential palaces of banana republics. We encompass the wide-eyed wonder-boys, and weird and wacky (not to mention wicked) wunderkind who could sell you (oh let us say) the airport expressway or soon-to-be national-international port for the prize of a hard loan or line of credit that generations will be in bondage to repay – who'd more than fit in well in the back alleys of the World Bank or the corridors of perverted power from Washington DC to One Horse Town, Timbuctoo.
Forget GSP Plus. Focus on life, liberty, and the pursuit of loot. Fawn on the politicos who can bring home the booty. But first, we'll have to export them. Do it quickly, before CEPA…