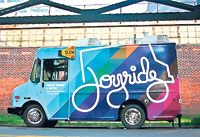 Gourmet food trucks have revolutionized the meaning of street food. Specializing in foods from schnitzel and burgers to cookies and cupcakes, this new wave has created a buzz in New York City with a following of people who crave something unique, delicious and affordable. Parking on the streets and updating their location for their followers via Twitter, the trucks have created a new food landscape that has taken New York by storm.
The latest in this gourmet truck trend is Joyride. Selling premium quality frozen yogurt with fresh fruit and dessert-inspired toppings, as well as gourmet coffee from Stumptown Coffee Roasters, Joyride will be on the streets of New York starting mid-July. And included in their list of toppings is Kithul treacle from Sri Lanka.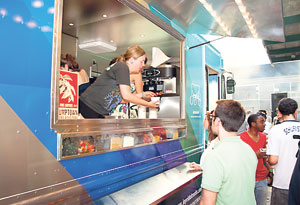 When co-founder of Joyride, David Belanich, first visited Sri Lanka from New York in the summer of 2001, he was impressed with the local dessert of curd and treacle. "The sweet, honey-like taste of the Kithul treacle is a fantastic complement to the tanginess of the curd," said Belanich. So when Belanich took a leave of absence from his PhD to turn his mind towards something different from academia and start a frozen yogurt business in New York, Kithul treacle was incorporated as a topping. Like Sri Lankan curd, Joyride's frozen yogurt with its proprietary blend of all-natural yogurts has a similarly tangy flavor.
At the recent launch party of Joyride in New York City where friends and foodies were introduced for the first time to the frozen yogurt and coffee served directly from the Joyride truck, the Kithul treacle turned out to be a high point. "I can't wait to have more of it when Joyride truck finally hits the streets," said one fan at the party. And indeed, it looks like Sri Lanka's Kithul treacle will be a great success amongst New Yorkers.