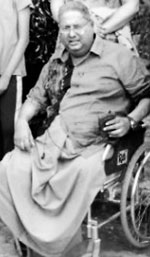 The news hit me with no warning. My friend Priyan Fernando's e-mail announced that Hemantha "Bundi" Jayatunga passed away very suddenly at his home. I am sure the shock was just as severe to the many friends of Hemantha, in Sri Lanka and around the world. Hemantha was one of those special human beings who always had a smile, cared deeply about his friends and family, and refused to indulge in self-pity when life took difficult turns. If I were to characterize Hemantha with a few words, they would be 'cheerful', 'faithful', and 'loyal'.
Last year when visiting family in Sri Lanka, I joined a couple of fellow old-Royalists to visit another fellow old-Royalist who was incapacitated -- Hemantha. He was in a wheelchair, disabled due to the amputation of his legs, a result of diabetic complications. He had had a kidney transplant and could not see well in one eye. Despite all these challenges, he expressed genuine delight in seeing us and we had a wonderful time catching up on each other's lives. Hemantha refused to spend anytime feeling sorry for himself and instead, focused his energies on living a full and active life. With a father's pride he introduced us to his daughters, Neluka and Shalini and excitedly showed us pictures of the greeting card designs that he and Neluka were creating for their greeting card business.
His interests were wide ranging. A proud Royalist and an avid sports fan, he not only followed every cricket match and rugby football game that Royal played, he would report the progress of every Royal-Thomian cricket match and every Bradby Shield rugby football game with Trinity to his buddies, especially his class at Royal, the Royal College group of 1964. We could also count on Hemantha to keep us informed about news from the Royal College Union (RCU) office.
Hemantha was a patriot, engaged in the ups and downs of life in Sri Lanka, frequently sending his friends a commentary with his insights and opinions as well as forwarding inspirational poems or pictures. The last e-mail I received from Hemantha was dated June 16, it was a forwarded article titled 'The Visit of a Lifetime' by Sharlene De Chikera, about a visit engineered by Rizan Nazeer, Secretary of the RCU, for a group of Tamil students from three schools in the Trincomalee district to Royal College. The inspirational report was a true-life story about how Tamil students from Trincomalee and Sinhalese students from Colombo learned to enjoy each other's company and build bridges of friendship as fellow citizens of one nation.
No description of Hemantha could be complete without mention of his faith. Hemantha had a deep and abiding Christian faith that grew stronger with time. He was very active and loved in his church and all who knew him saw a man who lived his faith. On April 7th he sent me the following story:

DEATH ( WHAT A WONDERFUL WAY TO EXPLAIN IT,
A sick man turned to his doctor as he was preparing to leave the examination room and said, "Doctor, I am afraid to die. Tell me what lies on the other side."
Very quietly, the doctor said, "I don't know."
"You don't know? You are a Christian man, and you don't know what's on the other side?'"
The doctor was holding the handle of the door. On the other side came a sound of scratching and whining, and as he opened the door, a dog sprang into the room and leaped on him with an eager show of gladness.
Turning to the patient, the doctor said, "Did you notice my dog? He's never been in this room before. He didn't know what was inside. He knew nothing except that his master was here, and when the door opened, he sprang in without fear. I know little of what is on the other side of death, but I do know one thing.I know my Master is there and that is enough."

Hemantha prefaced his e-mail message with these words:
"This really is the most beautiful explanation of death I've ever heard. Had to send it on to my family and friends."
Farewell, dear friend. We who are on this side will miss you greatly. But you have crossed over. Enjoy eternity with the Master, in your heavenly body, perfect in every way.
Dilip Abayasekara
---
A much loved Aiya to many
D.J.V. Kannangara
Don John Vivian Kannangara left us to join the Lord's Vineyard at a sudden and unexpected moment on February 28 this year. Affectionately called Vivian Aiya, he was married to my wife's sister, Jasmine Akka.
Hailing from a respectable family in Grandpass, he and his elder brother Percy were carrying on their father's business of tyre retreading. My father too was a close friend of Percy and Vivian and was engaged in the same trade. I knew them from my very young days and even attended his wedding, way back in 1968.
In later life, we happened to be members of the same social service organization, the Lions Club of Wattala. He was part of the club for nearly four decades, and at the time of his death he was its most senior member. During this time we became close friends, and my many visits to his house for social gatherings, ended up in my marriage to Jasmine Akka's sister.
I still have fond memories of the surprise party that was organized to celebrate the 40th wedding anniversary of Vivian Aiya and Jasmine Akka two years ago. Meticulous planning of the event by their only child Dilini and son-in-law Shalana, together with cousins was proof of the affection and love we had for him. He enjoyed that event and was talking about it proudly until his last day.
I still cannot get over his last moments in life when at my invitation he came for lunch to my house with his family. He was hale and hearty and was enjoying those few hours with us discussing politics in good humour. In the evening, he bade goodbye to us and left with his family. As the car left my premises, just outside my parapet wall he suffered a sudden heart attack and passed away immediately which gave a shock to all of us.
Vivian Aiya had no worries in life. He lived a full and happy life in an exemplary manner. With his quiet and unassuming way he always gave his best to his family and the family he joined. He was a popular figure in Wattala and the large crowd that attended his funeral bore ample testimony to this fact.
He was a devoted husband to his wife, Jasmine Akka, a loving father to his only child Dilini and son-in-law Shalana, and a loving grandfather to his two grandchildren Dilinthi and Shalintha.
Personally, I considered him as my own brother and though three months have passed since his death, it is difficult for us to come to terms that he is no more.
"Good Night sweet prince, and may the hosts of devas sing thee to thy rest."
May the turf sit lightly on you where you rest in peace.
Chandra Fernando