Bradford College is the fourth largest college in UK and the largest provider of higher education outside the university sector in England. Bradford College is renowned to be a welcoming, friendly place to study with a good reputation for offering outstanding support to its students in all areas of College life. This reputation has evolved from a history of delivering quality education for over 175 years. Bradford College has over 24,000 students from 60 countries worldwide and a teaching strength of 1400 staff. Bradford offers affordable, internationally recognized qualifications in Higher Education, Further Education, Access Courses and A Levels and has 29 curriculum areas with 600 courses on offer.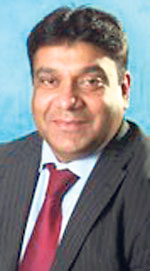 Adil Mahmood
Head of Region, Central / South Asia
Every year hundreds of students from all over the world choose to study at Bradford College, who are proud of their strong tradition of welcoming international students. The Bradford College International Centre liaises with all other departments of the College, offering specialist advice and assistance for all international students. This dedicated support is extended to all international students from the point of application to graduation. This centre is a place where students can discuss everyday issues, seek specialist information relating to visa renewal, course applications, banking and police registrations.
The Sunday Times Desk held an interview with Mr. Adil Mahmood - Head of Central/South Asia Region of the International Centre of Bradford College. Mr. Mahmood stated that Bradford College was proud of providing an "excellent learning experience" for their international students not only in their academic studies, but also in enabling students to experience the friendly environment of the College and amalgamating students of diverse cultures and nationalities. To cater to a large amount of international students Bradford College offers scholarships to a maximum of 30% students from the first year of study and subsequently students are eligible for scholarships for progressive studies from undergraduate to postgraduate level.
Bradford is a friendly 21st century city attracting nine million visitors a year. Leeds is the closest cosmopolitan city which is 15 km away from Bradford. Students studying in Bradford find Leeds a prospective destination for employment opportunities. Bradford was recently named as one of the top six cities in UK for potential economic growth. Living in Bradford is more economical compared to living closer to London with average living expenditure within the range of sterling pounds 35 /= per week. This, compared to living closer to London which costs an average sterling pounds 55/= to 70/=, makes living in Bradford more affordable for international students. Furthermore the in house accommodation provided at Bradford College is also affordable and reliable for most international students.
Bradford College offers a wide range of business services - tailored to meet the students' needs. This is with the realization that most employers want to make sure that their employees have the right skills to perform to their full potential. Skills shortages threaten productivity, reduce competitiveness and de-motivate employees.
The services offered at Bradford are from highly acclaimed employer engagement strategies to bespoke training and recruitment solutions - all designed to deliver cost effective, customized solutions to give businesses in the UK and overseas that competitive edge.
Bradford College is also committed to provide a Healthy College environment to improve the health and wellbeing of students and staff. Bradford was one of the first Colleges in the country to be awarded full 'Healthy College' status and have been singled out for praise by the government for their work in this area.
Bradford College is one of the few highly trusted sponsors affiliated to the British Council and categorized as an above Grade A college within the public sector colleges which are totally funded by the UK government. The College has signed a partnership agreement with Leeds Metropolitan University to award degrees to students graduating from degree programmes offered at Bradford College. Therefore the students at Bradford are benefitted from receiving their degree from one of the country's leading universities. Furthermore Leeds Metropolitan University has provided the opportunity for Bradford students to progress onto a range of higher education programmes at the university.
Bradford College is halfway in the process of obtaining Taught Degree Awarding Powers (TDAP), which will enable them to award their own degree for students graduating from their degree programmes. This is the first step in obtaining university status, stated Mr. Mahmood.
The College is committed to offer specialist advice and support in assisting students in their studies. Furthermore help is extended to students to find employment opportunities while studying at the College. Students also find motivation in extracurricular activities and sports and some actually venture into the professional arena and earn extra income. For example a Sri Lankan student studying a Business degree at Bradford College represented the Professional Cricket League. A huge emphasis is given for sports at Bradford and the new Trinity Green Campus which was opened in September 2008 houses an excellent sports centre. This centre is open for all students from 10 am to 10 pm daily. Apart from sports being a recreation the college has 11 sports academies.
Bradford College is proud to announce that it has received the highest judgment possible in a review of its Higher Education provision. The judgment follows the successful completion of the Integrated Quality and Enhancement Review (IQER) which was carried out by the Quality Assurance Agency (QAA), the body responsible for academic quality and standards in UK higher education. Bradford College is also celebrating receiving an Association of Colleges' Beacon Award for the second consecutive year. The College won the prestigious OCR Award for Functional Skills back in February for its innovative approach to developing and embedding Functional Skills in the curriculum and introducing the Foundation Learning Diploma.
There are a number of reasons why students decide to study at Bradford; the huge range of courses available, the friendly and supportive learning environment and the experienced and approachable lecturers to name but a few. This is in line with their mission, which is "to help students from the region, nationally and internationally, achieve their potential and make a rewarding and positive contribution to their own communities".
You may contact Adil through:
a.mahmood@bradfordcollege. ac.uk