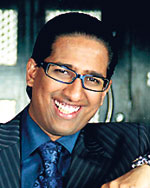 Prof. Arindam Chaudhuri
Dean - Centre for Economic Research & Advanced Studies - IIPM
"And so, my fellow Americans: ask not what your country can do for you. Ask what you can do for your country" John F. Kennedy.
Based on the above ethos in 1963 a dream was born to an eminent professor of IIM Bangalore Dr. Malay Chaudhuri who in 1973 with the formal registration of the Indian Institute of Planning and Management (IIPM) made it a reality.
Over the years IIPM has grown manifold to become the largest business school in the world (reported by The Financial Times of London in 2006) operating from over 18 state- of-the-art campuses and offering some of the most dynamic and market driven programmes in the areas of Management, Economic Planning and Entrepreneurship. Furthermore, IIPM is also one of the leading centres of academic researches, publishing journals in the areas of business, economics, marketing , IT and HR.
IIPM and IMI
Since 2000 IIPM joined hands with International Management Institute (IMI) Belgium, they have been offering some of the most innovative and market driven undergraduate, postgraduate and executive level Degree programmes. So it is no surprise that IIPM - IMI have received accolades such as:
DNA Innovative B-School Awards (2009)
B- School with best international placements
Best B- school in India (Non - IIM category)
ZEE BUSINESS - SYNOVATE BEST
B-School survey (2008)
Ranked 1st in Global Exposure in India
Ranked 7th overall (ahead of 2 IIMs)
The world's largest B-School according to Financial Times
What's the oomph factor at IIPM - IMI
The only B- School to offer the 4 Gs - GOTA, GOP, GPP and GSEP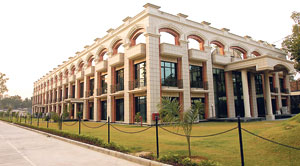 Cross-section of the IIPM building
GOTA - Global Opportunities and Threat Analysis - Students visit some of the world's most reputed B - schools in the world and also get the opportunity to visit corporate headquarters of Fortune 500 companies. They also receive certification from these B - Schools for attending the customized lectures on global management. These B - Schools include Cornell University IRL School, McCombs School of Business and University of Virginia Darden School of Business to name a few.
GOP - Global Outreach Programme - Professors from the top 20 - B schools and universities of the world representing Institutions like Harvard, Columbia, Wharton, Stanford, Yale, Stern, Chicago, LSE, Oxford have regularly taken interactive sessions with IIPM students across all the centres. Some of these eminent presenters have included Philip Kotler, Stephen R.Covey, Jim Rogers, Jack Cranfield to name a few.
GPP - Global Placement Programme - IIPM - IMI the SMG (Strategic Management Group) at IIPM operates from its offices in NY, London, Dubai and Singapore and work closely with corporations across the globe to identify global opportunities for the students. Thus it is no wonder that IIPM has been ranked as the 1st in Global exposure in India.
GSEP - Global Student Exchange Programme gives the students the opportunity to share best practices and ideas with one another, broadening their horizons. Furthermore, the Chairman / MD of Universal Student Consultants who are IIPM - IMI's representative in Sri Lanka said the reason for them collaborating with IIPM - IMI was that they both hold similar philosophies when looking at the youth of today. Mr.Sanjeev Ganeshan stating a quote from Franklin D.Roosevelt said:
"We cannot always build the future for our youth, but we can build our youth for the future"
Thus IIPM - IMI not only produces graduates who are academically exceptional, globally employable but also develop personalities which the graduates can be proud of for the rest of their lives.
IIPM representatives will be here in Sri Lanka for SPOT interviews and admissions.
For an appointment call Vasana on 077 22 78 717 / Aruni on 077 22 78 727 / Hotline number 2554422 or e-mail us on info@studyusc.com /vasana@studyusc.com