Over 200 high achievers and graduates were lauded by heads of US, UK and Australian universities and colleges at the ANC Awards Night, a gala ceremony held annually to felicitate graduates and transfer students who have excelled in their courses of study conducted by over 20 universities under the umbrella of ANC Education.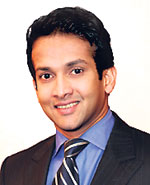 Dr. Punarjeewa KarunanayakeMD, CEO - ANC Education
President of Patten University Dr Gary Moncher, Vice Pro-Vost Global Learning of Missouri University of Science & Technology Dr Henry Wiebe, Provost of Northwood Michigan Campus Dr David Long and CEO of Monash College Joe Mithen together with professors, chairs and deans of their respective universities travelled to Sri Lanka to participate at the Awards Night, signifying the importance of the Sri Lankan input into their vast panorama of educational offerings.
Together with Dr Donard De Cogen Academic Manager of the Northern Consortium of UK Programmes at ANC which encompasses 11 leading universities in the UK including the Universities of Sheffield, Manchester, Leeds and Liverpool, every head of university and college were unanimous that Sri Lankan students stand out among their peers, having showcased excellent results, a trend they tend to continue with throughout their university years and beyond.
This was endorsed with a prime example of an ANC success story, Thilanka Munasinghe, a student at ANC who transferred in the summer of 2003 to the University of West Virginia and was the first Sri Lankan student to experience a zero gravity flight.
"It was ANC that helped me to achieve my dream because the course of study I wanted to pursue was something that no one had ventured in Sri Lanka. In the US, I was able to do my research and with hard work and absolute application, I have been able to present papers all over the world and have been enrolled into professional and academic bodies even before I became an engineer due to the quality of my presentations." Munasinghe is currently reading for his PhD at the University of West Virginia while also being in the process of completing his second Master's in Applied Mathematics. His first was in Aerospace Engineering.
Also attending the ceremony was Vice Consul of the US Embassy Kathryn Bondy who refreshingly began her speech by wishing the graduates and students present in Sinhala and intoned that while three decades ago, education merely meant gaining a high school diploma or a degree and continuing to remain in one workplace almost throughout your life, today education has revolutionised. "Education is more important than ever and somehow, simply having strong fundamentals in your early life as they did thirty years ago is insufficient. Modern day trends call for continued learning and continually adapting to a changing environment, which cultivates independence of mind. Graduates, treat this event today as a Commencement, which is what we call a graduation in the US because it really is a commencement of your journey into the future."
With ANC's large umbrella of US university options including Northwood, Patten and Missouri University of Science and Technology giving students a choice of over fifty different courses of study, Bondy also encouraged graduates to perceive the USA as not just a place of learning, "but a place of living and gaining an insight into life. You get involved in activities, volunteering and become part of communities which are all facets of learning outside the classroom, an important feature to succeed in today's environment."
ANC which offers students choices of either transferring after one, two or three years of study at ANC to the university of their choice in the USA, UK and Australia, also offers the option of completing an entire four year degree at ANC. However, as Chairman of ANC Education Jagath Alwis pointed out, given that the Sri Lankan university intake is very low, higher education options in Sri Lanka have not obtained much state support, a paradigm he hopes will change. "The new Minister of Higher Education has made it categorically clear that it is high time for Sri Lanka to introduce the options of foreign universities to Sri Lanka in line with Singapore and Malaysia. This is an excellent idea as it will also reverse the brain drain that we have been seeing with young people moving out of our shores pursuing higher educational opportunities."
This was added to by CEO of ANC Education Dr Punarjeeva Karunanayake who explained that one of the primary goals of ANC's existence is to reverse the brain drain. "We are the only single higher education provider that has universities from three countries in three continents in the entire subcontinent. We hope to add two more countries into this portfolio and while ensuring that the 'Sri Lankanness' of our students continue to be retained, we give our students the opportunity to broaden their outlook, which is one of the biggest assets we can give back to our country. We mould students to become global citizens but these global citizens come back to Sri Lanka to contribute their best in the larger picture of national development."
The Chairman also made a public pronouncement that he hoped the government will remove the VAT payment which is required of students who undergo private higher education, which he said is reprehensible, considering that higher education in state universities is imparted free and if the state universities cannot cope with the large numbers requiring higher education, then it really is no fault of the student.
Sujan Mario Warnakulasooriya's achievement of gaining the highest results in the world in his Diploma of Engineering studies at Monash College is a great example of Sri Lankan students making their mark in the world of global higher education. In addition, ANC also felicitated high achievers who maintained a GPA of over 3.8 over three semesters and best performers from the universities. Tharindu De Silva was adjudged the Best Performer at Patten University, Radiesha Daluwatte at Northwood University, Christine Sonali de Silva at the Missouri University of Science & Technology and Shyamalraj Kandasamy at NCUK.
A total of 72 students, 51 of them in Executive education graduated with BBAs in International Business, Management and Marketing, while Missouri University of Science and Technology had 13 graduates pass out with Bachelor's in Psychology. There were also 23 students who transferred to a host of universities in the US including California State, Kent State, University of Central Florida, University of Houston and Northwood University and 37 students completed the Diploma at Monash College. They will make their way to Monash University for completion of their degrees which encompass Business, Engineering, IT, Arts, Journalism and Psychological Science.
The UK, which to date remains the most popular choice of Sri Lankan students for higher studies had a majority of the 46 students gaining transfers to the University of Liverpool, while Queen Mary University, Kingston, Surrey, Leeds, Manchester, Sheffield and Bradford were also choices under the NCUK programme offered by ANC.
The evening concluded with a Performing Arts Show, a prelude to the Masquerade Ball which took place immediately after. The Performers, all ANC students and graduates, showcased their talents in magic, dance and music, truly espousing that ANC is more than just a higher education provider but rather an institution that builds holistic citizens who go out into the world to contribute their best.