Culture inspires design and acts as a source of inspiration for all creative arts. The Academy of Design (AOD), Sri Lanka's pioneer in developing creative industries has implemented a unique and interactive programme to provide potential design students with an experience that encapsulates well rounded artistic and cultural elements.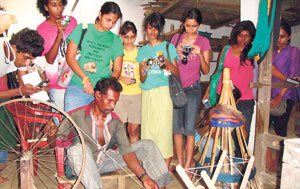 The special programme (in partnership with Barefoot, Goethe Institute, Russian Cultural Centre, Indian Cultural Centre, Lionel Wendt and many other institutions) is geared to nurturing creativity through culture during the education of design professionals. Linda Speldewinde, Managing Director at AOD, elaborates that 'AOD's international and highly esteemed Faculty believes in the importance of understanding and being aware of culture and producing a new generation of designers who will be sensitive to the nuances of their surroundings and to the world as a whole. AOD has implemented this programme for its students in appreciation of the cultural sectors managed by galleries, cultural centres and art studios in Sri Lanka'.
Mihiri Devendra, Programme Head for Jewellery Design at AOD highlights that 'Sri Lanka has a wonderful and rich heritage and we feel that due to the security restrictions caused during the past conflict, students of all ages and sectors missed out on the opportunity to experience our country's culture to the fullest. It is now the ideal time to implement programmes where our students can learn about culture and art which will aid their growth both as designers and human beings'.
As many students develop their creativity through their engagement with culture, AOD seeks to provide an opportunity and a platform for them to experience and gain exposure to at least 3 - 5 hours of art and culture modules each week, both outside and at the Academy. Diana E. Criswell, Programme Head for Design Foundation at AOD states that 'designers need to know the world, to know their background, and to know their competition to become truly well-rounded'.
During the course of their education at AOD, students are encouraged to be involved in their community by actively participating in events such as exhibitions, theatre and educational tours, amongst many other cultural and creative activities.
It is the fundamental goal of AOD to produce skilled, active and culturally sensitive design professionals who will be prepared to interact within their respective industries and contribute to upholding and developing Sri Lankan culture as a whole.