Republic Polytechnic (RP) Singapore established in 2003 is the first educational institute in Singapore to fully adopt Problem Based Learning methodology throughout its entire diploma courses. Problem-based learning (PBL) uses problems as triggers for learning and to invoke thinking and analytical skills in students which varies entirely from the traditional spoon feeding method. PBL requires students to deal with real life scenarios, diagnose problems, conduct research and finally propose a solution which essentially relates to an actual workspace environment.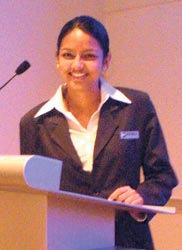 Surani Perera
RP currently has 13,000 students enrolled to its various diploma courses along with more than 700 full-time staff; both local and international to facilitate the students. RP has six schools, namely School of Applied Science, School of Engineering, School of Information and Communications Technology, School of Technology for the Arts, School of Sports, Health and Leisure and School of Hospitality; and has four learning centres, namely Centre for Culture and Communication, Centre for Educational Development, Centre for Innovation and Enterprise and Centre for Science and Mathematics, offering more than 30 Diploma courses.
The School is well equipped with systems, tools and enterprise applications that allow students to gain experience on industry-accepted solutions, with many graduates attaining professional certification in industry accepted programmes from Cisco, IBM, ITIL, Microsoft, SAP etc. RP's School of Information and Communications Technology offers five diplomas in a broad spectrum of ICT, preparing graduates for careers in the industry, as well as for further studies.
Education Times had the opportunity of meeting Ms Christina Chan, Assistant Director, Office of International Relations of Republic Polytechnic Singapore, Mr Suresh Kumar, Director of Millennium Concepts Singapore and two Sri Lankan scholars from RP who will be graduating this month to find out more about Republic Polytechnic, its student life and the opportunities and financial assistance they are planning to offer Sri Lankan students.
Millennium Concepts who is appointed as a Singapore Education Specialist by the Singapore Tourism Board is the facilitator for all Sri Lanka activities regarding enrolment for this three year programme. "We provide accurate and relevant information to international students who aim to study in Singapore. Our corporate mission is to provide the best professional match to suit your individual profile whilst ensuring the right assistance for your needs", stated Mr. Suresh Kumar.
Ms. Christina Chan explained about the three year Diploma Programme, the application procedure and the financial assistance available for students who are interested to enrol into RP. The minimum eligibility criterion for the programme is Ordinary Level examination. Students who have obtained the results required for the programme (which will be published in the web) may apply. Shortlisted students meeting the minimum entry requirements will then be required to sit an entrance assessment where selected students will be offered a Tuition Grant of 80% by Republic Polytechnic, through the Ministry of Education (MOE) Singapore. Upon graduation students will be required to serve a bond by working in Singapore or a Singapore based company for three years.
Students who wish to continue onto a degree programme can gain admission based on merit, to both local universities in Singapore as well as universities in countries like Australia, UK and US.
Twenty two year old Ms. Surani Perera, a past pupil of Holy Family Convent, Bambalapitiya is one of the Sri Lankan students who will be graduating from RP this year. "I applied for this programme soon after I did my A/Ls in 2006, and I was offered the tuition grant to do the Diploma in Communication and Automation Electronics. At first it was challenging to open up to a whole new learning system which required me to be more vocal and inquisitive and it was hard to learn to live by myself, but the friends I made along the way made it possible and enjoyable. The RP environment is very friendly, competitive and practical and being a multicultural society, there weren't much cultural barriers to overcome!" said Surani.
Surani has maintained a perfect GPA of 4.0 throughout the three years and has remained as the top student in her batch. At the upcoming graduation ceremony she will be receiving the prestigious Lee Kuan Yew Award for Mathematics and Science and will also have the honour of being the valedictorian for the graduating cohort. During her second year, she was selected as a pioneer scholar for the STEP Sunburst scholarship awarded by Singapore Technologies. Incidentally she obtained the Singapore Permanent Residency status in 2008 as well.
Mr. Dilhan Jayasuriya, 20 year old past pupil of Maliyadeva College Kurunegala, will also be graduating with a Diploma in Communication and Automation Electronics this year. While speaking to us he stated, "I applied for this programme and got selected when I was nearly completing my first year of A/Ls. The decision I had to make was a tough one, whether to continue my A/Ls or to start this programme. I convinced my parents and started this programme and looking back now I am happy to see that I had made the right decision 3 years back and worked my way through to make the best out of that decision. I would like to encourage my fellow Sri Lankan students to look into such opportunities open to you to make your dreams come true. Mine just did!"
Being a 20 year old, Dilhan has achieved a lot during these three years. While maintaining a high GPA he has been actively participating in many competitions and has brought fame to RP when his team managed to come in as 2nd runners up at the Singapore Robotic Games 2010 in the intelligent Robot category!
RP has a considerable Sri Lankan student population where a majority of them have already gained employment even prior to graduation. The students who are already enrolled are doing very well and have integrated themselves remarkably with the other local students. 8% of the RP student population comprise international students from countries such as Myanmar, Vietnam, Indonesia, Brunei, China, Sri Lanka, India and Malaysia which exposes students to an array of multi-cultural interaction and exposure.
Students who are interested can obtain more information by visiting MILLENNIUM CONCEPTS, 225-3/2, Galle Road, Colombo 4. Tel: 011 7392 555