With the objective of creating awareness of the educational opportunities and facilities available in the People's Republic of China for Sri Lankan students, who are eager to further their education in foreign countries, Sri Lanka-China Young Journalists' Forum and the Ministry of Education & Higher Education with the initiative of the China Scholarship Council (CSC) and Embassy of the People's Republic of China, will conduct the China Educational Fair in Sri Lanka at the BMICH in Colombo on May 21and 22 2010.
The event will bring the heads of nearly 40 renowned universities from China and will be the first exhibition of its kind held in Sri Lanka by the China Educational Fair Council. It will undoubtedly be a great opportunity for all Sri Lankan students and their parents or guardians to have a first hand experience meeting and discussing with the heads of leading colleges and universities in the People's Republic of China.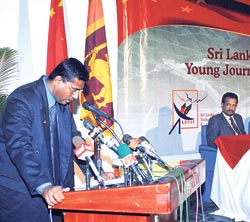 President of SLCYJF Nalin Aponso at a media briefing of the China Education Exhibition
Sri Lanka - China Young Journalists' Forum that fully facilitates the hosting of the event in Sri Lanka for the first time is a leading collaboration of young journalists in both print and electronic media in Sri Lanka who work to uplift the bilateral relations between the two friendly nations since 2001.
In order to enhance the coordination and literal contributions to create awareness of this valued objective the Forum recently launched a new magazine of current updates, features and vivid photographs on China in Sinhala medium, namely 'MAHAJANA CHEENAYA', and the dedicated website www.lankachina.com.
'MAHAJANA CHEENAYA' of SLCYJF has also given a first hand experience to the local readership of the various developmental programmes, people, cultures as well as multi ethnic harmony in China.
In view of identifying the unsurpassed support and assistance rendered by the SLCYJF towards enhancing the mutual understanding between China and Sri Lanka in the project of accessing programmes of CCTV and CRI to Sri Lanka, China Central Television (CCTV) and China Radio International (CRI) recently awarded a token of gratitude to Mr. Nalin Aponso - the President of Sri Lanka-China Young Journalists' Forum (SLCYJF). SLCYJF is also in the process of initiating discussions with their counterparts to launch another innovative project to enable the young journalists of both Sri Lanka and China to exchange mutual understanding and bilateral interests through a series of programmes that consist workshops, panel discussions and foreign visits.
China Scholarship Council (CSC) that patronizes in holding the event is a non-profit institution with legal person status affiliated with the Ministry of Education. The objective of the CSC is to provide, in accordance with the law, statutes and relevant principles and policies of China, financial assistance to the Chinese citizens wishing to study abroad and to the foreign citizens wishing to study in China in order to develop the educational, scientific and technological, and cultural exchanges and economic and trade cooperation between China and other countries, to strengthen the friendship and understanding between Chinese people and the people of all other countries, and to promote world peace and the socialist modernization drive in China.
CSC is financed mainly by the state's special appropriations for scholarship programme. At the same time the CSC accepts donations from the personages, enterprises, social organizations and other organizations at home and abroad. The tasks of the CSC are to use legal and economic means to manage the affairs of the Chinese citizens studying abroad and of the foreigners studying in China, take charge of the management and utilization of China Scholarship, determine the relevant assistance projects and modes, formulate management regulations and put the scholarship to best use; manage the bilateral and multilateral exchange or unilateral scholarships between China and other countries; manage other matters concerning educational exchanges and scientific and technological cooperation on behalf of relevant organizations, institutions and individuals inside and outside China; provide financial support to the projects conducive to the development of China's education and its friendly relations with other countries; strive for donations from home and abroad, expand the sources of the Scholarship and increase the Scholarship; establish contacts with its counterparts at home and abroad and carry out exchange and cooperation with them.
Universities among the list of participants at the China Educational Fair in Sri Lanka
Peking University
Beijing University of Posts & Telecommunications
Chinese Academy of Agricultural Science
Tianjin University of Traditional Chinese Medicine
Bohai University
Dalian Polytechnic University
Dalian Maritime University
Dalian University of Technology
Dalian Medical University
Liaoning University
Liaoning Technical University
Liaoning University of Technology
University of Science & Technology Liaoning
Liaoning ShihuaUniversity
Liaoning Information Vocational & Technical College
Liaoning Medical University
Liaoning University of Traditional Chinese Medicine
Shenyang University
Shenyang University of Technology
Shenyang Institute of Chemical Technology
Shenyang Ligong University
Shenyang Agricultural University
Shenyang Pharmaceutical University
Shenyang Medical College
China Medical University
Jilin University
Fudan University
East China University of Science & Technology
Shanghai University
Shanghai Jiaotong University
Nanjing University of Aeronautics & Astronautics
China Academy of Art
Hefei University of Technology
Southwest Jiaotong University
Northwest A & F University
Shihezi University
The event is held as a free service to obtain first hand information of the Chinese education and its privileges and it is hoped that the China Educational Fair-2010 in Sri Lanka will bring ample opportunities for the young school leavers, professionals and educational enthusiasts around the country who are interested in broadening their talents, skills, and knowledge of higher and professional education with a global recognition to reach international standards in a number of spheres such as medicine, pharmaceutics, aeronautics & Astronautics, IT & telecommunications, technology, agriculture, fine arts and many more.