Strong professional relationships, international connections and an idealic lifestyle have proven the perfect formula for Sri Lankan PhD student Manjula Dewadasa.
Reading for his Doctor of Philosophy (PhD) in Electrical Engineering at the Queensland University of Technology (QUT) in Brisbane, Australia, Manjula says his experience studying in Australia has been second-to-none. "I chose to study at QUT because of the university's real world outlook and strong reputation of the expert teaching staff," he said. "I knew that QUT had good, practical research opportunities and my friends who were already studying in the Faculty of Built Environment and Engineering spoke highly of their study experience there," said Manjula.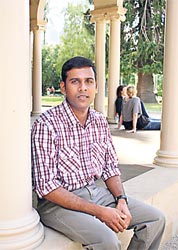 Sri Lankan PhD student Manjula Dewadasa
QUT's focus is to undertake high-impact research that is both of the highest academic quality and also aimed at making a real and practical difference to the world around us. Further testimony to QUT's reputation is its corporate education partnerships with the Built Environment and Engineering Faculty chosen by industry globally to develop unique, customised learning centres, collaborating with leading organisations such as Royal Dutch Shell, Ausenco and Brisbane Airport Corporation.
Manjula said having the opportunity to network with industry experts in his chosen research field provided invaluable practical experience to further his career. "I am a part of collaborative, real-world projects and it's encouraging to know that my research is really making a difference." "And the student services and resources I have access to as a researcher ensure that I am at ease while completing my study," he said.
From a lifestyle perspective, Manjula adds, QUT offers a very welcoming, multicultural environment, located conveniently in the heart of the city. "Brisbane offers good transport and lots of places to spend free time and meet new people, in a relaxed and safe environment." Manjula will graduate from QUT in August 2010 and looks forward to a career with global prospects.
For more information:
Email: qut.international@qut.edu.au
Website: www.international.qut.edu.au
CRICOS CODE: 00213J
Source: David Samuel, Business Development Manager
Australian Trade Commission (Austrade),
Colombo-Sri Laka.
E-mail: David.Samuel@austrade.gov.au