Doctors and judges headed the list of 'most respected professions' in Sri Lanka in a Business Times email poll which asked respondents to name the top five professions among a list of 14. More than 400 people responded to the poll which revealed that the five, most respected professions are (in priority order) – doctors, judges, farmers, teachers and entrepreneurs tie.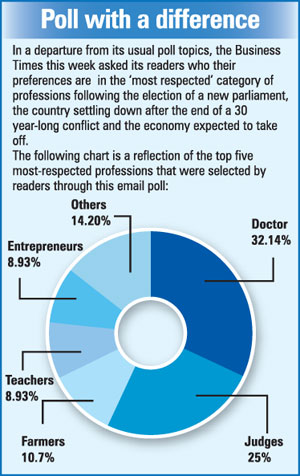 The other professions in the choice of 14 listed were parliamentarians, public servants, journalists, accountants, lawyers, social workers, engineers, bankers and businessmen. Among these, the second set of five choices of the readers were (in order of priority): engineers, accountants, businessmen, bankers and social workers.
In a departure from its usual poll topics, the Business Times said it wanted to ask readers who their preferences are in the wake of a new parliament, the country settling down after the end of a 30 year-long conflict and the economy growth expected to tke off.
The majority of those who responded to the poll picked the five professions listed in second paragraph. Out of this, doctors received 32.1 % of the vote, judges 25 %, farmers 10.7 %, and teachers and entrepreneurs 8.9 %, each.
Parliamentarians figured at number 14 (bottom of the list) in the case of most respondents. One respondent said while teachers and farmers are respected professions, in terms of choice young people would prefer a more-paying profession. "Thus the most respected profession doesn't necessarily be the best paying. In that context your poll may not be an indicator for the preference of young people," he said.
The issue, which drew one of the biggest-ever responses to a Business Times poll, was intended to assess what Sri Lankans believe is the most respected profession in terms of values, discipline and conduct.
In that sense, respondents clearly showed their distaste for parliamentarians given the corruption, thuggery and bogus values that go with this 'career'. Another respondent said she respected most entrepreneurs because they "are the ones having goals that they somehow achieve and also provide employment opportunities to others."
Doctors, judges the most respected professions-Business Times poll. She said they do not wait for opportunities to come to them but create opportunities for themselves." Another pithy comment from lawyer: "Sorry to say that none deserves respect. There is no professionalism including the legal fraternity which I belong to."