SriLankan Catering (Pvt) Ltd recently won 24 medals at Culinary Art 2010, the largest food industry competition in Sri Lanka.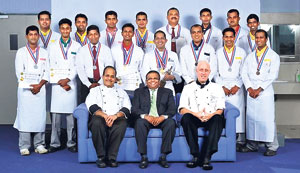 Picture shows the award winners with CEO of SriLankan Catering Sarath Fernando (middle), Sudhish Pande, Production Manager (to his right) and Chef Anthony Gibson (to his left).
Competing with over 1,600 entries from 1,100 contestants, SriLankan Catering's team brought home 24 medals, including one Trophy, two Golds, 14 Silvers, and 7 Bronzes, the airline catering subsidiary said.
SriLankan Catering, the fully owned subsidiary of SriLankan Airlines, recently signed agreements to supply meals to three more major international carriers that fly into Colombo's Bandaranaike International Airport, in addition to SriLankan Airlines and several other airlines that it already serves.
Larder Chef J.P.K.M. Jayaweera was the star of the team, winning the Trophy for Best Sculptor for his exquisite ice carving of a princess, plus one Gold, three Silvers, and one Bronze.
His colleague Chathura Danangala won one Gold for his five-course set dinner menu plus one Silver.
Altogether, 16 members of the SriLankan Catering team won medals.