Almost everywhere you walked at the Hilton Colombo last week, there was a touch of coke – and class. There were sign boards and the distinct brand name and some new coolers displayed, not to forget impressive and well-attired, busy executives running around.
On the third floor of the hotel, senior management from Coca-Cola SABCO, the multinational's company's bottler in many parts of the world was having its annual retreat to discuss future plans, strategies and investment options.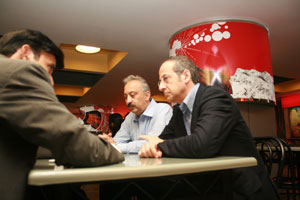 Ahmet Bozer, President of Eurasia and Africa of The Coca-Cola Company, Atul Singh - President & CEO, India and South West Asia Business Unit (centre) and Manish Chaturvedi, Coke's Country Manager for Sri Lanka & the Maldives (left) discussing some issues while visiting market outlets in Colombo on Thursday.
Why Sri Lanka? "Well I'm not sure. It was picked by our bottler as the location for their annual management meeting. But it also provided me an opportunity to visit this beautiful country and look at its potential," laughed Ahmet Bozer, President of Eurasia and Africa of The Coca-Cola Company, meeting the Business Times for a 1-1-on-1interview on Thursday. Dozens of the company's senior executives had flown down from across the world including Coke headquarters in Atlanta, the USA and occupied a sizable part of the Colombo hotel for nearly a week.
Mr Bozer is the beverage giant's highest ranking executive to visit Sri Lanka and he has loved every minute of his visit. Asked whether he was meeting government officials, politicians or the President, "not this time, unfortunately." The high profile executive oversees 90 countries in the world.
During the interview, Mr Bozer – accompanied by Manish Chaturvedi, Coke's Country Manager for Sri Lanka & the Maldives, and Viraj Chouhan, General Manager, Public Affairs & Communication, India & South West Asia – responded to questions on the constant debate between coke and health, investment plans, how to manage 90 countries and global warming.
Excerpts:
You cover a wide range of Coca Cola operations across the world. How is Asia doing post financial crisis and is consumer demand picking up now?
I'll talk about 2008 which was the impact from the global crisis. In South West Asia (India, Sri Lanka and some other countries) – the only part of Asia that's in my area -- we were not impacted by the crisis. For this group of what I call 'crisis-unaware' countries, it was not really an issue. The same would apply to large parts of Africa. We however had some impact in Russia and some of the countries around Russia.
In most countries we were able to sustain our business. This part of the world including Sri Lanka (part of Indian operations) is among the fastest growing regions in my territory.
I know in Sri Lanka some of the businesses may have had a slight setback (in terms of the crisis) but we had a very good year last year (too). We are happy with the growth we achieved in Sri Lanka last year and we look forward to a continuation and acceleration of that due to a number of factors. I oversee 90 countries and for our business to be healthy, our growth and business must be broadbased. We cannot grow in one or two countries and not be strong in the remaining countries. In terms of the company, Sri Lanka has a fairly large population of 20 million and its per capita of $2000 is quite high compared to many other countries. If you consider the fact that the war is over and one could look forward to more stability, then Sri Lanka becomes a key market for us in the region strengthening our portfolio in the context of broad-based growth.
Global warming is a serious issue and can affect consumer demand given the change in climatic conditions and seasons. Has that had an impact on Coca-Cola?
You asked the question from an interesting perspective as to whether it is affecting consumption. But allow me to approach it differently. Is it affecting consumption? I don't know because my part of the world is a huge developing part where consumption is so low that we are investing and growing. So we really don't know whether the growth is coming from investments or not.
Of more concern to us besides the consumption of water is all the environmental issues including global warming which we take very seriously. The company has very clear goals in the area of environment because at the end of the day we want to be growing in a way that is sustainable, that respects the environment and that contributes to the sustainability of the community. On a global basis in our group this means three areas – water, climate and packaging.
These are the areas our business touches the environment by use of water, by use of energy and by having packaging that is connected. These are the areas we focus heavily on. In Sri Lanka we have the 'Give Back Life' project where we collect the PET bottles for recycling in an organised way. We also have goals that apply to all the plants in the area of water. We expect all our plants to reduce their water use in production; we expect our waste water quality not only to meet local law standards but be of a quality that can sustain fish life. All plants have that objective aimed to achieve by (end) 2010. So we have a number of these environmental projects on water, packaging and energy.
How do you keep track of operations in 90 countries? Is that humanly possible?
That's a common, curious question. But for that matter -- at the end of the day -, my boss covers the whole world. There are certain pillars in the way it works. Firstly it's our team: There are eight Business Unit Presidents in my group and there are the structures beneath that. It is important that this team works as a team, which means that we share common goals, common strategies, and the teams are empowered enough to do what is required from them in the markets. It requires a culture of openness, culture of trust. When there is trust, there is speed. If you don't have a culture of trust, covering 90 countries becomes very painful. You need good measurement systems where people have clear goals. It's all about making the system work. It's the only way. Obviously as the leader of the organisation you have to demonstrate that you really care about the operations.
Does consumer demand and interest in beverages vary from country to country? For example, do consumers use it for thirst, the heat or something else – taste for example?
There are variations from time to time but – as we say - we provide simple moments of refreshment in our Coca-Cola product range and also simple moments of optimism. We provide the refreshment value as well as the upliftment, the energy, the vitality – that's the bundle. In some countries, people consume it more with meals, in some other countries they consume it with snacks, in some places it's while watching TV. So these are kinds of variations. What is important is local relevance.
We are an international company and our headquarters is in the US. But if you look at the ownership of this company, if you look at the composition of our customers, if you look at the employees – all of us come from different countries. For an international company to be successful, you have to be locally relevant.
In Sri Lanka we have a portfolio of international brands and local brands. We are supporting cricket, music, etc. We look at the right products, the right portfolio, the right platforms like music and cricket so that we are relevant to the local community.
Can you comment on Coca-Cola and the health issue?
There are lots of perceptions on the health issue. This might sound a bit cliché but there is nothing wrong with our product. My daughter consumes it, very frequently; my wife consumes it; my son has it. These (health concern) perceptions unfortunately happen because of disinformation. What is in the product is safe. On health, the company subscribes to the common-sense theory – having a balance diet.
We believe in a balanced diet. We don't believe there's good food or bad food; we don't believe there is a good ingredient or bad ingredient, whether sugar is bad or salt is bad. Too much of anything is always not good. You need a balanced diet. You also need an active lifestyle.
The data we are looking at in a number of countries is that it's not as much as the calorie intake that has changed, it's a lot to do with the change in activity. The level of activity in many countries is coming down because of a more sedentary lifestyle.
As a result there are the weight gain issues. As we share this information, most people do understand that as long as you have a balance and you know your own body – every metabolism is different -, then there is no good or bad product. We also offer a choice – if you are concerned about sugar, we have products with less sugar and we offer juices in many countries and look at expanding our portfolio of products. You can safely consume and enjoy basically if you have a healthy lifestyle.
How has your progress been in the China and India markets?
These two countries have contributed significantly to the growth of Coca-Cola earnings over the years. Growth in India last year was 29 %. But in the world it's also important to have broad-based growth. We have growth in Latin America, Europe is also doing well and others too. But India and China will provide significant growth as there is a long way to go.
Please visit releted story: Coca-Cola says it's excited by Sri Lanka's potential