"I prepared myself for the role of Jesus for 40 days," says Damien Croos when we meet him on Wednesday, just two days before Good Friday when he took centre-stage in the Passion Play staged in Ethukala. "I have been faced with so much temptation but I have been strong enough to avoid it all because of God's blessings. I believe strongly that the ability to play this role was a gift from God."
He has spent much time in prayer and adds that he would fast from Maundy Thursday as well. Those in my village have given me so much strength and have helped me a lot," he says. "I want to be able to show the audience what Jesus went through and for them to be able to feel the pain he felt and for them to have a change of heart."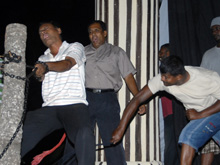 Rehearsals in progress.
Good Friday, the day which commemorates the crucifixion of Jesus Christ, was observed by Christians all around the island. One of the most well known aspects of this holy day is the presentation of Passion Plays. In Sri Lanka one of the oldest Passion Plays, which has a history of around 400 years, is held in Duwa in Negombo.
The passion play at Ethukala which belongs to the Sea Street Parish was first held in 1998 but due to the tense situation in the country had not been held after 2004. This year, the people of Ethukala with the help of Fr. Erington Silva, the parish priest of St. Sylvester's Church in Ethukala were bringing alive the last moments of Jesus Christ.
Christy Mihindukula, directed the Passion Play in '98 but when he went abroad, Clement Fernando, an apprentice of Prof. Ediriweera Sarachchandra took over.
Mr. Mihindukula worked with a cast of 80 including children for this year's play and says that being able to portray what Jesus Christ went through in those last moments is a tough task. "It is important to commemorate the season of Lent and this play is an important aspect in the culture of Catholics."
"It's tough because of the number of people involved," he said, adding, "finding the ideal actors and actresses to fit these historic roles is not easy."
He himself has been acting since 1962 and has played the role of Christ many times during that period.
Henry Hoffman Miral plays the role of Judas. "This is the first time I have been part of a Passion Play," he says, adding that he has rehearsed tirelessly for the past three weeks. "Preparation for this role has not been easy as it is painful to play the role of the man who betrayed Jesus." He has been avoiding meat and alcohol and says this is a role he takes seriously.
The burden is less for Ayeshi Miral who plays the mother of Christ. "I feel it is wonderful to play the role of Jesus's mother. A lot of dedication is needed to play a mother's role and I enjoy it," she smiles. Fr. Shiran Karawgoda, the Rector in charge of the Don Bosco Technical Centre along with his students has helped this dedicated group with voice cuts for the play.
Earl Joseph Croos plays has been part of this Passion Play three times and has played the role of Pilate once before. "For me, it is about having a clear mind and conscience," says Croos.
"Pilate does not give this sentence willingly. I play the role of a man who washes his hands of a situation." He also explains that since Pilate was a King it is not really a tough role to play.
Dilakshan Miral, one of the organisers believes their success comes from the fact that their village has come together as a family to make this happen.
"We are doing the maximum with our abilities because we have a strong spirit and we were all brought together because we wanted to do this well."
From statues to people
There is long history associated with Negombo and the Passion of Christ but in the early days the play was enacted solely with the use of statues, based on a script by Fr. Gonsalvez.
It was in 1948 that the Late Kalasoori Fr. Marcelline Jayakody introduced the idea of people taking over the roles. He was then the parish priest of the Church of Our Lady of Good Voyage in Duwa. He also introduced a new script.