This Easter heralds the resurrection of good times the season's confectionary extravagances augur. Like Christmas which has become an excuse to offer presents (especially to oneself), Easter has become an excuse for unabashed gourmandising of chocolate bunnies, chocolate eggs, hot cross buns, and now it would seem cake!
Whilst chocolate is traditionally associated with Easter perhaps few recall that the Catholic Church banned this dark temptress when her aphrodisiacal virtues were broadcast in medieval times. But the chocolate crusade prevailed. And if decadence is to be put in a nutshell, or should I say eggshell, then decadence is epitomised in Hilton Colombo's solid Easter egg conceived by pastry chef Gerard Mendis, President of Sri Lanka's Chefs' Guild. His intensely chocolaty concoction encloses a rich liqueur-infused fondant centre as smooth as sin itself. Thorns, tasty ones, come as chipped chocolate speckling the unctuous softness.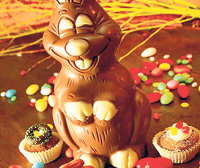 The Galadari's Easter specials
The subtle craftsmanship of this delicacy, its finery and finesse, make it Colombo's only Easter egg of international standards. It is little wonder that the international award-winning chef, as humble as he is hailed, was recently showcasing his culinary art in New York. To also pick up at Fine Things: marzipan-strapped, cinnamon scented, soft as cotton hot cross buns. Gorgeous.
The Galadari's award-winning Chef Fernando (who recently wowed me with his butterscotch-laced ginger pudding and Colombo's best bibikkan) learned to make chocolate in Singapore and has transferred his skills into solid chocolate Easter bunnies and eggs, my preference being the immense dark chocolate bunny: a splendidly sculpted hard shell containing a nutty interior.
The French eat dark chocolate, considering milk chocolate a concession to children and white chocolate a contradiction in terms: I too might have found the white chocolate tussles the bunny was furred in a tad sweet. However, the visual impact of frothy white chocolate against dark is a treat for any kid. Indeed, I revived my childhood as I munched into Chef Fernando's lovely ribbon cake, duly bunny-shaped.
Cinnamon Lakeside's Chef Jagath Wijesinghe seems to have a monopoly on variety. His repertoire of goodies is ever expanding and one obviously trusts him to offer the greatest number of products for Easter too. His virtually sugar-free hot cross buns come with a creative twist in the form of studded cashew nuts, dry fruit and candied peel. I foresee them selling like hot cakes. If solid chocolate bunnies are too heavy on the hips, Goodies is doing lighter ones with hollow centres and itsy chocolate hens too, besides ribbon cake and marzipan cupcake. Go on, you can sweat it off later.
Hilton Colombo Residence has become a synonym for exquisite desserts and the speedy mobility of the very enticing display of the Pitstop inspires indulgence. I once remarked the chocolate that New York-trained young Pastry Chef Withana uses surpasses the commonly used Valrhona and discovered that indeed he uses premium Swiss Carma chocolate. GM Manesh Fernando confessed that he doesn't drink but has one addiction in life: chocolate, revealing that he demolishes five pieces of Pitstop chocolate nightly because they are so good! We think so too.
My happiest discovery on this visit to Colombo was Sita Goonetilleke aka Sits who doubtless makes the freshest, finest, fluffiest homemade cakes in town. Amongst those "in the know" the Queen of Confections has assumed celebrity stature with her cloud-soft, melt-in-your-mouth, get-yourself-a-dozen-this-Easter cupcakes (vanilla, chocolate ganache, nutty mocha… ooooh…)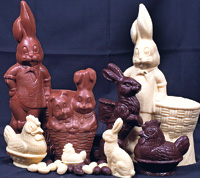 Hens and bunnies from Cinnamon Lakeside
Sita, the double accountant with an MBA has never attended a cookery class and merely began experimenting in her kitchen. And what trouble she has cooked up with her 30 odd cakes, puddings and desserts, not least when she scandalised colleagues at Ernst & Young (where she worked formerly) who thought selling cake was simply not done. Well, it is, when you bring the mathematical precision of accountancy into your recipes to manufacture meticulously measured marvels.
The exuberant Sita says she never makes anything she can't eat and she never eats anything severely sweet, so her cakes mercifully spare one the sugar assault one is generally subjected to in Colombo. Her prowess in the domain of chocolate confections is arguably unrivalled: plain chocolate cake (amongst the best I have had in Colombo), chocolate marzipan cake (absolute must-do for Easter), chocolate ganache cake (oozes chocolate; deliciously dangerous), frozen chocolate marvel (my favourite, an opulence of crunchy nougat base encased in rich chocolate cream and heaped with chocolate shavings and nuts).
I didn't quite get round to the chocolate brownie, wedge of chocolate macaroon delice or the chocolate chip cookies. Admittedly, I tasted and ate not a little of all the rest of the aforementioned in 20 minutes before writing this article and no, I did not proceed to be ill (which attests to the wholesomeness and levity of the cakes). Instead, I called up Sita and said I intended to try every item in her prolific portfolio.
After all, chocolate is our favourite sin, a very forgivable little sin and who hasn't worshipped at the bitter sweet altar of this dark force?