Visit her home on the Swiss-French border and you will see a replica of an old fireplace, functioning perfectly, that she designed herself; doors painted in gold, a leopard that guards the door to the cloakroom and a unicorn that opens the bathroom door. The walls and beams of her home are ornamented by tiles, paintings and sculptures that are visual expressions of the stories that pour forth from her imagination.
Her garden is filled with mythical figures. Monsieur Acquarentius – Khan dominates the entrance to the house. This proud individual comes from Ethiopia and watches as you ring the doorbell.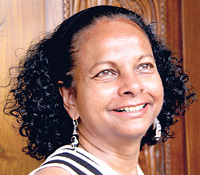 Indira
Indira Kuru-Utumpola was born and raised in Sri Lanka and educated at Ladies' College. She says with much amusement, that she failed in Art at her 'O' Levels! In fact this was the only subject she came down in. Then Indira met Peter Richards who became her most benign Svengali. He brought out her artistic talent, encouraging her to draw and training her eye to see an object as it should be seen.
"He was patient as I went through processes of trial and error. I now sculpt as well. Though I never copy exactly the art I see around the world everything I see is stored in my mind and my imagination juggles its themes and forms to produce my very own visual images," Indira says.
"I work during the winter – I am inspired by the bare trees when all their leaves have fallen. It is then that the true shape of the tree is seen. And it is then that my dream of a mini chateau mirroring the luxury of an ancient past became a reality."
The tiles on her verandah tell tales of fish. Fish also have lives, like us, she says. Indira has always been fascinated by the Bible and its stories – especially Genesis which talks of the Creation- it says that on the fifth day God created fish and sent them downstream. On the banks of these streams were artichokes. To her artichokes represent all that is primeval and pristine – going back to the time of Adam and Eve.
Perhaps a good story to illustrate Indira's philosophy would be that of the New World. The catastrophe of September 9/11 upset her more than she can say and Indira began to see the present world in all its horror and chaos. Her illustrations begin with an array of scenes from the modern world which are a combination of the human, animal and spiritual worlds – The wrath of God falls most heavily on the most intelligent animal on this planet – Man.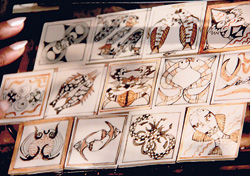 Tales of fish on tiles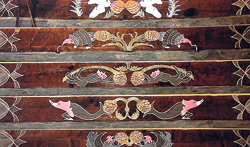 Bringing the artichokes together
"This is because Man has the greatest intelligence amongst all creatures. But Man's intelligence is nevertheless instrumental in causing the destruction of the planet by chemical and biological weapons.
And so the Earth is destroyed by fire. The last species to die in the flames were the birds – because they can fly.
A panel shows the birds escaping the flames against a background of the burning Earth. Before all the birds were destroyed the Creator picked a pair of doves and put them in to a cage as doves denote peace. With this by His side He created a new world," Indira explains.
This new world has strange creatures who are amalgams of all animals. "Artichokes with their pristine elegance are among the flora in this world. The Creator has placed them at significant points and made sure that there is space between them. Whoever brings the heads of two artichokes together will be the leader of this new world but their intelligence will not evolve beyond that point.
You see many animals trying but finally it is the two peace doves who accomplished this and are appointed as the new rulers of this world. But will they be able to sustain the peace and harmony or will the bright pink showing anger in the other creatures eventually corrupt the peace doves' impartial judgement and bring chaos to this new world? Who knows?"
"Each time I visit Sri Lanka I see the country of my birth with new eyes. I am inspired by Sri Lanka in ways that I never would have been, had I not left and been exposed to such a world of culture," says this unusual artist.
A friend