The launch of the festive season in Nuwara Eliya got off to a grand start this week with a band display and a parade by some 1,500 school children. The 8th 'Wasantha' season will begin, two days after the general election on April 8, and go on till the end of the month with a range of celebrations. The spring fest will be sponsored by the Municipal Council and already stall holders have got things going to make it a success.
Some residents of the town who want to earn some extra money have put up the usual 'Rooms available' sign boards, to attract visitors. Already reservations have been made in all big hotels and guest houses.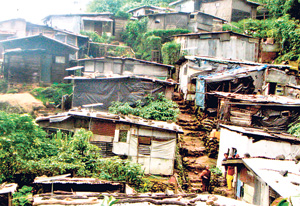 The dilapidated houses which disfigure the landscape.
The end of the war has improved the general atmosphere. However, the state of the bus stand does not seem to have caught the eye of those in authority.
The same has to be said of some dilapidated houses that spoil the image of the town. In addition, no one seems to be interested to stop the mass felling of trees in the Nuwara Eliya area which mars the beauty of the town at this time.
Nuwara Eliya town became the leisure centre of the European ruling class and even today the town retains its unique identity and did not cease to celebrate the 'season' in spite of the war situation in the North during the last 30 years.
It was an English custom to spend holidays in this town during the spring, summer and Christmas holiday seasons. Dancing, drinking, horse racing, hunting and fishing were some of the activities the Englishmen enjoyed during the holiday season. The first horse race was said to have been run in 1873.
In the course of time, other activities as boat races, motor cycle races, beauty pageants, agricultural exhibitions, dog shows and floral exhibitions were added to the list of festivities. It was in 1978 that the present background to the festival became a regular feature.