Mrs. Anumaana had never been much of a pop-music fan, but with all this talk about someone called 'Akon' and scantily-clad women dancing around a Buddha statue, she became very curious. Mrs. Anumaana inquired about this controversial video from many video shops in her neighbourhood, but none of them had it. So she had to content herself with YouTube.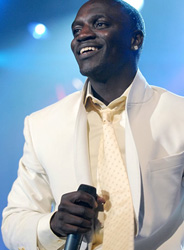 Akon
Though she had great difficulty detecting the offending image, her persistence paid off and she eventually spotted it with the help of her son. He went through the clip frame by frame, until it revealed, for a split second, the blurry form of a seated white statue in the background. Mrs Anumaana was quite impressed by Sunil's powers of concentration in locating this fleeting image, what with all those gyrating female figures being thrust in his face throughout the video!
Mrs. Anumaana heard that the authorities have now set up a special unit called the Sri Lanka Moral Police, to track down sacrilegious activities anywhere in the country and prosecute those responsible, to safeguard the morals of the younger generation. It is reported to have got to work already, starting with the Cultural Triangle. But apparently there had been a setback because the officer assigned to Sigiriya had fallen off the rock when he saw the scantily-clad women adorning the walls of the rock fortress.
Although the officer was still recovering in hospital, he had made a recommendation that a group of local artists should be assigned to paint clothes over the ill-attired females, in order to protect the morals of the younger generation. Now Mrs. Anumaana had serious misgivings about the advisability of going ahead with this proposal. So she was greatly relieved when she heard that it had run into difficulty, because the Moral Police officials could not reach agreement as to whether the damsels should be attired in the sari, shalwar or T-shirt.
There is also much disagreement as to why the 'Akon' video could not be found in the video shops. There are some who say it is sold out. But Mrs. Anumaana's neighbour who runs a video shop down the road says those videos have gone underground because the shop owners are afraid their establishments might get stoned, just like Sirasa.
For the time being he thinks he is safe, because just next door to his shop is an Elections Office. Up to now this has served quite well to deflect the attention of the stone-throwing types, he says. But the elections will soon be over, Mrs Anumaana pointed out. It was only then that he told Mrs. Anumaana, confidentially, about his plan to persuade an MP in the area to put up a PERMANENT party office next to his property, decked with PERMANENT posters and cut-outs.
His theory was that this would effectively attract the rocks and stones and grenades, and his shop would be safe.
Meanwhile the video shop owner has fallen out with her son. Sunil has been going around telling his friends that there is no need to get "action" videos any more, because all the action they need will be "COMING SOON TO AN ELECTION OFFICE NEAR YOU."
Sunil belongs to the school of thought that attributes the non-availability of the 'Akon' video to it being "sold out." He insists that the entire ha ho at Sirasa was actually part of a conspiracy between 'Akon' and a Minister from Kelaniya, designed to boost Akon's sales. Mrs. Anumaana doesn't know what to make of it all.