The bus driver who, along with the bus conductor, saved more than sixty people from almost certain death when their timely action allowed the passengers to escape minutes before a claymore mine exploded in their route number 155 Mattakuliya-Moratuwa bus in 2008, now claims that he has been forgotten.
Speaking to the Sunday Times on Friday about his plight, middle aged M. A. Thilakasiri charged that he was not been given proper work and buses to drive at the Mattakkuliya depot where he has been working for years. He said he is being treated unfairly by his colleagues at the depot.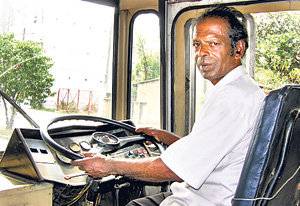 M. A. Thilakasiri
He alleged that he had been asked to stop coming to work since December because he had been taking a lot of 'no pay' leave which, he claims, was spent attending media events with the authorities.
"They are not giving me a bus to drive. The bus that got blasted in the explosion has now been repaired but they wouldn't even let me drive that one. I can't achieve the targets set because they won't let me," he said.
Thilakasiri, a father of three young children who are still schooling, said, he suffered a brief illness after the explosion in 2008 and underwent treatment at the Colombo National Hospital. But he has recovered now and is fit for work, he said.
An employee of the Ceylon Transport Board (CTB) since 1980, Thilakasiri said that his colleagues at the depot think he made thousands of rupees in the aftermath of the explosion when he and the conductor received numerous accolades and monetary gifts from various sources. This was not the case, he said, adding that the total amount of money he received as gifts came to only about Rs. 100,000.
"Those at the depot thought I made loads of money. Some people who promised me many things soon after the incident are yet to get back to me," he said.
However, when contacted by The Sunday Times, Mattakuliya Depot Manager Colvin Jayaratne dismissed the allegations made by Mr. Thilakasiri saying he was being treated fairly and that there was no truth to his claims.
"We are giving him work and buses to drive. We have taken into consideration his physical condition and health problems and have given him buses on short distance routes," he said.
No one has asked Mr. Thilakasiri to stop coming to work even though there was an irregularity with the amount of 'no pay' leave he had taken, he said. "We have never treated him unfairly," he maintained.