Sports
---
Adieu great ol' pal
It was only the other day that the legendary Sanath Jayasuriya completed twenty years in International cricket and as it stands, he has played 110 Tests and 444 ODI games and a countless no of other games around the world.

He has played other than Sri Lanka and the local domestic teams, for the Dolphins, The MCC, The Mumbai Indians and Somerset! I wonder whether there is another cricketer hailing from this tiny Island who has done so much and who has been sought after so much in the game of cricket. I thought it was only fitting when another great the Indian Sachin Tendulkar who himself completed 20 years in International cricket stated that "I have not seen Bradman bat but have seen Jayasuriya bat". He also adds that Jayasuriya was possibly the best batsman of his time. Extremely high praise when you consider some of the names that played with him and against him. Brian Lara, Ricky Ponting, Rahul Dravid, Steve Waugh just to name a few!

It was never an easy ride for Sanath born 30th June 1969 in Matara, an under-privileged territory then when compared to the more affluent Colombo. And after a tough baptism in school cricket to come over to the capital and to stamp his class was a no mean achievement by itself.

It wouldn't have ever been easy considering the economic, social and other challenges he would have faced! I am not surprised if he even considered throwing in the towel and returning to Matara and indulge in some other profession or passion. This has been the ride and his story even in cricket! Always up against it, be it at home or abroad against the best of the bowlers or some element looking to chop him! Sanath has lived up to his forte! And that has been hard work, dedication and never-say-die attitude! Both on and off the field!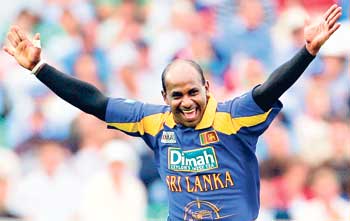 The result he has derived is unprecedented up to now and it is highly unlikely ever to be surpassed. The runs and wickets he has had in every form of the game has been worth their weight in gold as I wonder whether there has been another player who has won so many games for Sri Lanka be it in batting or bowling. Sanath Jayasuriya has been a legend in every sense of the word!

Back to his cricket, one remembers how he announced himself with two back-to-back double hundreds in Pakistan when Sri Lanka A toured that country in the mid eighties. Then it was Australia in the mid nineties under Arjuna Ranatunga. And without an iota of doubt that was where the real Jayasuriya was born! Given the unaccustomed role as an opener Jayasuriya's blitz was something the world was not prepared for and had never seen before. In the company of Romesh Kaluwitharana, Jayasuriya revolutionized the first ten overs in ODI cricket. On the way bowlers of the caliber of Philip De Freitas of England and Manoj Prabhakar of India were hit out of cricket and many others far too numerous to mention were embarrassed as Sri Lanka marched to cricketing glory in 1996 with Jayasuriya the fitting most valuable player.

What happened next was a fairy tale episode! Jayasuriya was scoring a mountain of runs which included his epic 340 against India and the bowlers around the world were still shell-shocked and plotting his downfall. However as usual there was only one winner in those many contests and that was Jayasuriya. Having honed his skills and the technique in keeping with the demand of the modern day game Jayasuriya just kept going unstoppable and at times unbelievable! I also wonder whether there has been any other cricketer from Sri Lanka who has been such a hit amongst everybody! From world leaders to top business tycoons and the ordinary folk as well as the media has always had Sanath Jayasuriya as a top favourite and the most wanted to meet and speak irrespective when and where. Even today Jayasuriya attracts attention in whatever company he may be or how important the others around him may be! He has the people and the world in awe with his influence be it with either the bat or ball or off the field.
Sanath Jayasuriya was and is and will be a star! Immortal! And will live in the hearts of millions of Sri Lankans and billions of others for what he has been to everybody not just as a cricketer but as a human being and for the laughter and the entertainment he has provided. He has influenced the life style of people both here and abroad irrespective of age or cast or creed.

Walking amongst young kids playing cricket one could witness the mannerisms of Jayasuriya used by them confirming his status not just as a role model but as an Icon! Sanath Jayasuriya is a privilege to have and to know and without doubt one of the riches and prides of this great nation Sri Lanka. He has served with honesty, dedication, love and vigour. As a cricketer I am sure he will be hard to replace either as an explosive opener or in his new role as an all rounder or simply as the man of the hour.
Skipper Sangakkara in a recent interview had stated that when Jayasuriya is around either batting or in the team it is always comforting and reassuring! A statement which describes the man and his contribution which otherwise could take a thousand words to explain.

Sanath Jayasuriya will live long, very much like a lingering melody that has eternal life so will be his heroics. It wouldn't also be long when the tag master blaster gets changed to batting great and or the cricketing legend as that will be what the people will always know him as. It is a great blessing that the electronic world has been revolutionized where great action and moments can be stored for the future as otherwise I am sure the future generations will only hear but not know what this great cricketing son has achieved however unbelievable it may sound. On that score I wish to add that "blessed and fortunate are the eyes that just caught a glimpse of him" Well done Sanath! Thanks for the entertainment and may you go from strength to strength!

Roshan Abeysinghe is a leading cricket promoter and an international cricket commentator
|
E-mail
|
views[

1

]