Sports
---
Sussie, Sana and Murali felicitated
By Namal Pathirage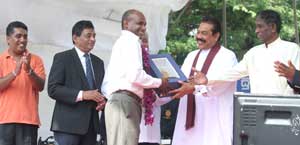 Former Sri Lanka captain and opening batsman Sanath Jayasuriya being given a memento by President Mahinda Rajapaksa. (Pic by Kushan Pathiraja)

Sri Lanka's sports stalwarts Susanthika Jayasinghe, Sanath Jayasuriya and Muttiah Muralitharan were felicitated by President Mahinda Rajapaksa at a ceremony held at Torrington Place yesterday.

This event also coincided with the laying of the foundation stone to the Syenthetic athletic track that will be put up at the Torrington Sports Ministry Grounds at a cost of 312 million rupees.

Speaking at the ceremony the President said that he was hoping to introduce an insurance scheme to all sports men and woman in the island. At the same time he lamented today it was a very difficult task to find any sports body that was not riddled with problems. He blamed the sports officialdom for this faux pas and added the officials do not have a proper understanding about the performing sportsmen and women.

He also pointed out while the focus was on winning the war during the past few years the government has put up eleven sports complexes around the island during that time.
|
E-mail
|
views[

1

]