The Kerala Industrial Infrastructure Development Corporation (KINFRA) Film and Video Park, India's first industrial park catering exclusively to the infotainment industry,is willing to provide post production facilities for Sri Lankan film producers including digital animation facility, KINFRA Managing Director, S. Ramnath told the Sunday Times BT last week.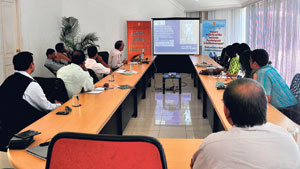 Journalists being briefed at the film park
"Coupled with the highly creative workforce that Kerala provides in the artistic arena the Film and Video Park is increasingly seen by both Indian and international players as the best location from where their global markets can be served," he added . He said that Sri Lanka should make use of this opportunity rather than visiting Singapore, Malaysia or the Middle East to obtain post production facilities.
Indian studios and post production houses have shown an interest to attract Sri Lankans to use their facilities. Many Sri Lankan producers use Indian technicians and artists. Indian producers have also used Sri Lankan technicians during shooting in Sri Lanka. Sri Lankan film makers could obtain Indian studio facilities for their post production under one roof at the KINFRA Film and Video Park which has matured into a complete ecosystem for the digital animation and cinema sector Ramnath said.
The Park recently received ISO 14001-2004 certification for its environmentally friendly procedures and practices. The Park's location on the edge of Thiruvananthapuram, only 30 minutes flying time from Sri Lanka and under three hours from other neighbouring countries like Maldives, East Africa and the Gulf nations is also seen as an attractive destination for cross border joint ventures in the infotainment sector, he said.
A group of journalists including the Business Times was given an opportunity to visit KINFRA FV Park units and Animation SEZ on an invitation extended by Kerala Industrial Infrastructure Development Corporation last week.
Leading south Indian mega star Mohanlal, has set up an international-standard special effects and Dolby digital sound dubbing/re-recording facility, Vismaya Max Studios. The facility which often works three shifts a day is Kerala's most advanced facility of its kind for film makers.
Prasad Labs, South India's largest film processing facility, has set up a unit within the Park which today processes almost the entire output of the Malayalam film industry and has also set up the first telecine facility in the state for catering to film makers who edit their products digitally today. The KINFRA Film and Video Park is ready to provide facilities for Sri Lankan producers at these renowned studios under one roof thereby reducing the cost of post production, Mr Ramnath said.
An International Animation School is being developed on 4.5 acres of land at the Park, in collaboration with the National Institute of Design (NID), Ahmedabad. Anand Parthaasarthy, Director, KINFRA FV Park noted that the School would offer a long duration graduate equivalent diploma program of three years and several shorter duration intensive certificate programs from a few days duration to a year.
It would also have state-of-the-art IT and animation equipments where the students can have an environment on par with global standards. He said that Sri Lankan students could also make use of this opportunity to learn the techniques of animation at this school which will be opened next year.