An event with a difference was held in Kiula, Sri Lanka last Saturday with villagers gathering at their temple to invoke blessings for a 'real deal' for Climate Change mitigation at the Copenhagen Climate change talks.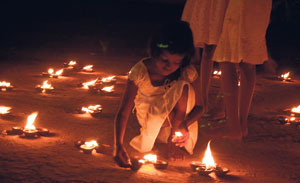 A young girl lights some oil lamps
According to Renton De Alwis, a former chairman of Sri Lanka Tourism and writer, they lit 500 oil lamps, held a meditation session and listened to a Buddhist sermon with participation of 1200 villagers of this agro-fishing coastal village. These villagers were victims, like hundreds of thousands of other Sri Lankans of the tsunami of 2004.
"What they want is greener and saner world for their children and theirs and are calling on world leaders to exercise saner counsel at the ongoing UN Climate Talks," said Mr De Alwis who now resides in Kiula where he owns a boutique hotel.