Lanka Spice Ltd (LSL) was recently awarded the ISO 22000:2005 certification (HACCP) for food and safety management systems at the Sri Lanka Standard Institute recently.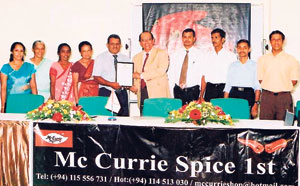 Receiving the certification
Having obtained this certificate LSL said in a press release that it would conform to the HACCP standards in identifying physical and biological hazards encountered during production and processing of food items at the company factory in Pannipitiya. LSL is a pioneer in the development of processed spices, spice blends and ready-to-eat jar products, under the "Mc Currie" brand since 1985.
The product range of LSL is divided into two categories, namely, Dry Products (usually packed in pouches/satches)and wet products (usually packed in glass/PET jars), the press release said.