The Supreme Court this week directed the Attorney General ,the Central Bank and the 3-member chartered accountants' committee to examine two lists of assets submitted by Ceylinco Chief Lalith Kotelawala.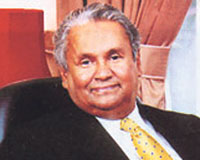 Lalith Kotelawala
This was to ascertain his own assets and which had accrued from the Golden Key (GK) Credit Card Company to enable the court to seize and sell his properties and transfer the money to the GK-dedicated account at the Bank of Ceylon. The directive was issued by Justice Shirani Thilakawardane considering an objection raised by the counsel for Mr Kotelawala. The order to seize the assets will be made on the January 13, the next hearing date of the case.
The Supreme Court, which is hearing a Fundamental Rights (FR) application filed by a group of Golden Key depositors, has ordered that the deposits be settled under a scheme starting with the lowest value.
The re-payment of the first installment of 3,863 Golden Key Credit Card Depositors worth Rs.351 million is now underway with 2,100 cheques being dispatched by registered post by the Central Bank, the head of the chartered accountants' committee Lakshman R. Watawala, informed the Supreme Court on Thursday. The second phase of the re-payment plan will begin on January 15 for the benefit of 2,500 depositors and the total amount will be around Rs. 250 million.
The Committee also suggested that the funds for the repayment should be found by obtaining Rs.110 million from the personal funds of Lalith Kotelawala and his wife, Rs.240 million from Ceylinco Consolidated Accounts and the rest by selling the assets of the Ceylinco Company. These assets would understandably have to be replenished after the repayments of the first two stages. The Court-appointed committee has recommended that its Chairman and Directors "bring in" an additional Rs.13 billion to start repaying depositors. GK collapsed with debts of Rs.26 billion of which Rs.12.7 billion is capital and Rs.13.2 billion is interest, according to initial findings by the committee.
The Supreme Court has also given its consent for the appointment of trustees to settle the repayment of F&G under the directions of the Attorney General when the F&G FR case was taken up for hearing on Thursday.