Going by the results of the just concluded Junior National Swimming Meet held at the Sugathadasa Indoor Pool from Oct. 22nd to 24th it is quite apparent that Sithari Perera is surely climbing the stairway to bigger deeds. Sithari, an outstanding swimmer from British International School took to the waters in five events the 50 metre Butterfly, the 100 metre Backstroke, the 50 metre Free Style, the 200 metre Medley and the 100 metre Free Style. Her talents were showcased in all five events of which she won the first three while coming in second in the latter two.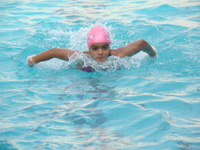 To emphasise her ability, she broke the age group record of 33.16 seconds held by Miniruwani Samarakoon by clocking 32.30 secs. in the U-14 girls 50 meter Butterfly event. In the process Sithari beat an opponent of exceptional ability in Machiko Raheem who trains in Malaysia.
If one were to hark back to the beginning of Sithari's competitive swimming career at the tender age of 10yrs one would not have to be a prophet to label her as a future champion. Such was the talent she displayed coupled with her tendency for hard work and the will and determination to succeed. She first came into the limelight as a 11-year-old when competing in the U-12 category she shattered the U-12 Butterfly stroke record at the Sri Lanka Schools Meet in 2007 and followed it up by being crowned the International Schools and Novices Champion Winning the 200m Individual Medley, 50m Butterfly stroke and the 100m Freestyle events.
The year 2007 also saw Sithari compete in the Annual 2 mile sea swim at Mt. Lavinia where she finished the course in a creditable time, being one of the youngest to do so. The year 2008 saw Sithari monopolizing the U-14 age group in the Inter International Schools meet swimming way ahead to bag the 200m Individual Medley, 100m Freestyle and the 50m Butterfly events to be declared the U-14 champion swimmer. She also won the Junior National Championship in the U-14 age group in the same year recording wins in the 200m Individual Medley, 100m Backstroke, 50m Dolphin and 50m Freestyle events. She also retained her U-14 age group Championship title in 2009 at the Inter International Meet and stamped her class winning the U-13 200m Individual Medley, 50m Backstroke and 100m Backstroke events at the Sri Lanka Schools Swimming and Diving Championship held this year.