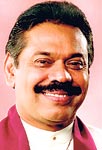 Dr. Mahinda Rajapaksa
The Patrice Lumumba Peoples' Friendship University which is currently known as the Russian University of National Friendship has offered President Mahinda Rajapaksa an honorary doctorate.
However there is no decision yet on when the President will accept this doctorate.
This is the second doctorate to be conferred on the President since the military defeat of the LTTE.
He was conferred an honorary doctorate by the University of Colombo recently along with his brother Defence Secretary Gotabhaya Rajapaksa.
Mass Media Minister Lakshman Yapa Abeywardane who was in Russia recently had expressed gratitude to the Russian Federation for the commendable step it had taken in offering the President with an honorary doctorate as well as to the Vice Chancellor of the Russian University of National Friendship for this initiative.