Sea erosion is causing great hardship to families living on the western coast. In the Marawila area, in Muhudukatuwa, more than 50 beachfront homes have been swallowed by the sea. Displaced families are roughing it out in temples, churches and tents. The fishermen cannot go out to catch fish because of the rough seas.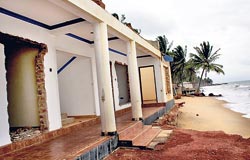 An expatriate's Rs. 4 million holiday home abandoned to the seas.
The beachfront road leading from Wennappuwa to Iranawila, through Chilaw, cannot be used because of advancing waters. According to residents, there has been a dramatic encroachment of sea on land in the past 10 years.
The seashore that was a mile off a decade ago is now only 10 metres distant, they say. The Coast Conservation Department has made little progress in checking sea erosion in the area, disgruntled residents add.
The state has given land to relocate 15 displaced families, while another 15 families have been roughing it out in tents for the past four months. Grade 8 student N. Nimesha says her studies have been disrupted because the tents lacked lighting and she cannot study at night.
District Secretary Kingsley Fernando said he has had discussions with the Coast Conservation Department. The only solution to the sea erosion, he said, was to build rock barricades along the coast.