Last Thursday, I was honoured to present my letter of credentials from President Obama to President Rajapaksa and to begin my term as the US ambassador to Sri Lanka.
I am looking forward to learning about your country, seeing its many cultural and natural treasures, and listening to your perspectives and viewpoints about the United States and the relationship between our two countries.
On a personal note, I am also happy to return to South Asia where I have spent nearly half of my 30-year career in the U.S. diplomatic service.
In the six decades since our countries first established diplomatic relations, our relationship has developed into a multifaceted and mutually beneficial partnership. In the international arena, we are both concerned with the threat of the proliferation of weapons of mass destruction and with keeping the seaways safe and secure.
In business and trade, the United States is the leading export market for Sri Lankan goods, while Sri Lanka is a major destination for American goods and services. In military cooperation, hundreds of members of the Sri Lankan military have participated in U.S. training programmes, conferences and educational exchanges.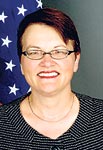 Patricia Butenis
In development assistance, since 1956 USAID has contributed over $2 billion to projects in Sri Lanka, including funding that has provided over seven million meals to Internally Displaced People (IDPs) in northern Sri Lanka this year alone.
In education, more than 2,000 Sri Lankans enroll annually at US colleges and universities and numerous American scholars and students visit Sri Lanka to study your culture and traditions. In culture and the arts, a steady stream of American and Sri Lankan religious leaders, academic specialists, and artists have contributed to the heritage of both of our countries, including Henry Steele Olcott, who came to Sri Lanka and established numerous Buddhist schools on the island, many of which still exist. It is both my charge and desire to work toward expanding and deepening this relationship.
I arrive in your country at an historic moment and at a time of great opportunity. For nearly three decades, war ravaged Sri Lanka and nearly half of your citizens are too young to remember the times before the conflict.
The United States welcomed the end of the conflict. The United States has kept the LTTE on its list of terrorist organizations since 1997 and has investigated and successfully convicted persons who have provided material support to the LTTE.
With the end of the military conflict, the long process of reconciliation begins. Of course, it is up to Sri Lankans to decide how to best build trust and tolerance throughout the country and amongst the people. No one else can define that path for you.
Like my predecessors, I shall actively seek to expand our cooperation. Also like them I shall be an advocate for certain fundamental principles that always have been cornerstones of US foreign policy.
Promoting human rights is one of our most important global concerns. No country, including the United States, has a perfect record in safeguarding human rights. We too have been criticized. We believe it to be our responsibility, however, to advocate for the rights and freedoms of people worldwide, even while we work to address our own shortcomings.
In Sri Lanka that means we shall continue to advocate for freedom of movement for IDPs in northern Sri Lanka. These Sri Lankan citizens have suffered for decades under the tyrannical rule of the LTTE and, want nothing more than to restart their lives in a new Sri Lanka.
We urge that they be allowed to do so. We believe that a vibrant and free media is an essential element of a democracy. Dissenting voices should be heard and tolerated, and those who suppress or threaten the media harm the entire nation.
Our relationship, with its long history, has a great potential to grow and expand. I look forward to working with the people and the Government of Sri Lanka during my tenure to make this a reality.
Patricia Butenis: Highlights of her career
A career member of the Senior Foreign Service, rank of Minister-Counselor.
Served as the Deputy Chief of Mission at the U.S. Embassy in Baghdad from 2007-2009.
Served as Ambassador to Bangladesh from 2006-2007 and Deputy Chief of Mission at the U.S. Embassy in Islamabad from 2004-2006
Joined the Foreign Service in 1980.
Served as Vice Consul in Karachi, Pakistan (1980-1982); Vice Consul/Political Officer in San Salvador, El Salvador (1982-1985); Consul in New Delhi, India (1985-1988); El Salvador Desk Officer (1988-1990); and Consul (American Citizen Services Chief) in Bogotá, Colombia (1990-1993).
Attended the National War College (1993-1994) and also served at the Visa Office, Field Liaison, in the Department of State (1994-1997).
Served as Consul General in Warsaw, Poland (1998-2001) and Consul General in Bogotá, Colombia (2001-2004).
Received a B.A. in Anthropology from the University of Pennsylvania and an M.A. in International Relations from Columbia University.