A life-size sculpture of a man with a television for a head catches the attention as one enters the parking lot of this newly-opened art gallery. Impressive, yet simple, it does not take a rocket scientist to discern the message that the artist is attempting to convey -- the mind-controlling power of the media.
In the Art Way Gallery opened this month at 66, Old Kesbewa Road, Nugegoda, the paintings and sculptures on display are just as impressive and thought-provoking.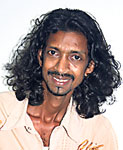 Sudath Abeysekara
It is meant to serve as more than just a gallery, stresses its young founder Sudath Abeysekara, a graduate in fine arts, explaining that it is a place where artists can meet, discuss and share ideas.
"We also conduct lessons for amateurs as well as at an academic level," he says, adding that it is unlike the few galleries in Colombo, for "we have people stationed at the gallery who can provide visitors with information about a particular artwork and also artists. We have tried to make it more of an experience for visitors".
It certainly is an experience. Each room is designed uniquely to complement the artwork on display. When the paintings and sculptures on display are sold, they are replaced by new pieces and meanwhile, Sudath arranges for the renovation including the repainting of the walls and changing of the lighting in the gallery every two weeks.
The gallery is also meant to provide local artists, especially those who have chosen to make a career out of it, an outlet to reach people. "It's common for graduates of art to end up in a career that isn't what they specialized in and girls most often end up as housewives. This is because they haven't got a means of reaching people with their art, so they give it up altogether. This is a centre for them to display their work, become recognized and sell their work," says Sudath.
The gallery, however, is not only for them. Well-known artists such as H.A. Karunaratne whose work fetches a high price, also exhibit their work here.
Retaining the old styles of painting, introducing new art forms or mixing the two, the gallery seems one of a kind. It even has on display "installation art". Sudath who has studied installation art at workshops across the world, hopes to popularise it in the local art circle.
Explaining what installation art is all about, Sudath says "paintings can have meanings that are ambiguous, so it may be a bit difficult for people to understand what it is about, but installation art carries a message that is more often political and simple to understand. It's also more of an experience".