It's a breezy day inside the new British High Commission compound. Thick kalugal walls keep the world at bay but allow a clear view of the towering trees that line Bauddhaloka Mawatha just outside. Water ripples in ponds and palm fronds sway in stone paved courtyards – all combining to make you forget that you are, in fact, inside an office.
It's the kind of building that invites relaxation and makes for a surprisingly successful fusion of Sri Lankan style and English aesthetics. The work of the Edinburgh based architect, Richard Murphy, the building also has a quality that can be best described as pure Bawa. The juxtaposition of stone, wood and water is instantly recognizable, as are the minimalist, streamlined interiors. Having been opened in May 2008, it was recently shortlisted for the Lubetkin Prize at the Royal Institute of British Architects (RIBA) International Awards 2009.
The structure was designed and built by Murphy in partnership with local architects Milroy Perera Associates, says Deputy High Commissioner Mark Gooding.
After a visit to Sri Lanka, Murphy, much inspired by the island's traditional architecture and by Bawa himself, came up with a design that relied heavily on local materials and embraced one of Sri Lankan architecture's most beloved design elements – the open courtyard. The building currently has over seven such spaces. Though each features running water and greenery, a unique layout gives each a distinct character. Murphy opted to have the building hug the ground, and its single storey sprawl is one of the biggest differences from the five-storey structure of the old High Commission offices at Colombo 3.
"It's obviously a state-of-the-art office environment but it's also a delightful building," says Mr. Gooding.
At the heart of the building is a long airy hall, where desks are stationed at regular intervals. There's plenty of breathing room for the hundred-odd staff, but they are all essentially sharing the same space. This area also functions as a main thoroughfare. This central hall connects the public entrance and reception areas with the consular section, while adjoining sections are home to various specialised departments, such as the Trade & Investment Section.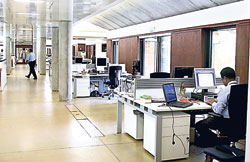 Recreation is taken care of with a pool and tennis courts that are placed along the western boundary.
The interiors harbour a surprise or two--the work of several contemporary artists, including that of Michael Craig-Martin. The flamboyant colours and abstract shapes do much to lighten the otherwise stark walls. There is even an installation or two. In the corridor off the High Commissioner's office, a colourful lightbox installation by David Batchelor is made up of what appears to be multicoloured plastic bottles of all shapes and sizes.
In the main building, natural stack-ventilation and controlled amounts of natural top lighting are made possible by a semi-vaulted roof. Made of uncut cement, the solid curves taper off to a thin line where industrial fans ensure the offices stay cool and well ventilated. The design is meant to help the High Commission cut back on its energy usage. In fact, with the shift to their new premises, the High Commission has adopted a 'Go Green' campaign.
Security concerns dictated that the building be made entirely of reinforced concrete. Covering a total floor space of over 40,000 square feet, it cost about £7.5m to construct. The steep price comes with assurances that the offices meet global standards and that they are thoughtfully constructed allowing easy access even to those with disabilities.
Appropriately, the building has been described as a "diplomatic coup". In the end, with its wonderful fusion of East and West, it serves as an ambassador both for contemporary British architecture and traditional Sri Lankan design.