Sports
---
Some inner thoughts on review system
The controversial, the much talked about decision review system which was first introduced in the last Sri Lanka vs India test series, in Sri Lanka is finally here to stay. Is this the first step to reduce the human element involved in the on field decision making? Will it soon be the era where the game will see one 'on field umpire' to start with and then no 'on field umpires' at all?

Will the camera's take over the decision making process? Will the day dawn when the players on the field be it batting or bowling appeal to an umpire who will be seated in front of a TV screen and decide by pressing a button?
These may be questions that are going through the minds of cricket fans and administrators and even the players for that matter as yet another new revolution in the game happens! The referral system will stay, come what may.

There is no doubt that the system has its benefits and detriments and has support and criticism too. But it will be good and interesting to examine the system more closely and understand it better and how it could affect the over all game of cricket. For starters I don't think Sri Lanka would want to complain too much about the referrals at least for the time being, as it was she who benefitted mostly from it in the series it was first introduced when Sri Lanka played India. There were many line decisions that could have tilted the game either way, which were decided correctly, with no benefit of the doubt at all. Talking about the doubt factor, where can there be doubt when the question is scrutinized to its fullest? Therefore to a great extent that gets negated.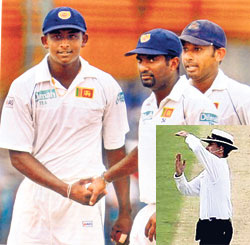 Will the camera's take over the decision making process? (Inset) Umpire Bowden in action



Another important aspect is the fact that players, who are fully professional and depend entirely on the game for their living, will not be subjected to dubious decisions of umpires or shall we say the chances of that happening could be reduced. As we all know many fringe players have suffered at the hands of poor decisions made by Umpires and have had their promising careers cut short. So this system will reduce that happening too. The fact the system will help to reduce the errors that could happen in the middle is another plus as we always here of complaints on decision making even with so called elite panel Umpires.

Looking in to the matter from an Umpires point of view, some of the toughest decisions for an umpire in the middle could be a bat pad or even in the situation of a catch, to be sure that it was clean or not. This doesn't mean that the other decisions are any easier! Every decision which has to be made instantly is never easy. The umpire as we know has to make up his mind on many matters before the decision is finally made. You may ask any Umpire not just the one's involved in the International scene, the pressures they face in the middle so tough that, this could in a way be a huge relief for them too as they have somebody to fall back on.

May be all these new inventions are to make the game mistake free or to reduce the mistakes made despite the time consumed which could be a worry. But with the possibility of Test Cricket being played under lights, all you need is to increase the playing by another hour and the time factor could be over come! With all this one day the ICC might be able to eradicate most mistakes involving decision making in the middle with newer thinking which will be fine for both the players and the fans. Judging by the way the game has evolved, we will all have to accept it and put up with it too.

Having done all that to ensure the game is less controversial, the ICC could take comfort that the game of cricket will reach a higher level one day. But hang on! What about the grand old teaching which says that the Umpires word is law? Also what about what our coaches taught us in the good old days which was never to question an Umpires decision? I certainly remember respected coaches of yesteryear cautioning budding cricketers at school not to even consider questioning an umpire leave alone gesturing in that manner when a decision is made. The golden rule that Umpire is always right despite whatever decision he makes as he is unbiased? What about that now?

In that light what has the referral system done to all this? It has suddenly thrown all those great teaching about the game which stems from the fact that it is played by gentleman, out of the window. This is the area in this whole process of referrals that doesn't fit in to my equation. I can't possibly accept an Umpire's decision been questioned openly, though we may do it privately. To me this new process points in the direction of the lack of respect to the man in the white coat (or the white shirt)! May be I am old fashioned and is not easy to change or is it that the game is no more played by Gentleman or it's not for the Gentleman? I wonder what the answer is! These only times will tell and history will also revel to us as in every other case whether these changes had a positive or a detrimental impact to the game!
= Roshan Abeysinghe is a leading cricket promoter and an international cricket commentator
|
E-mail
|
views[

1

]