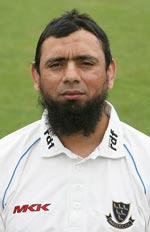 Saqlain Mustaq
The man recognised as the patent-holder of cricket's most controversial delivery, the off-spinner's doosra, has offered his services to Australia as a coach.

Saqlain Mustaq, the Pakistani great who took 208 wickets in 49 Tests, is playing out his cricket career for Burslem in the Staffordshire and Cheshire League in England.

Yesterday he said he was willing to impart the techniques of doosra bowling to a new generation of Australian off-spinners. But if Australia doesn't want him, Saqlain, who has recently completed his level two certificate will no doubt find ready employment, spreading the doosra in another country.

Saeed Ajmal, who confounded the Australians in Dubai last week before being reported by field umpires Billy Bowden and Asad Rauf for a suspect bowling action when delivering the off-spinner's googly, is one of his pupils.

Saqlain is the only doosra bowler in international cricket never to be reported for a suspect bowling action.

"If there is any opportunity for me to work in Australia I would love to take that opportunity," Saqlain said. "I can teach them if they want my services." Australian off-spinners, including Nathan Hauritz, Jason Krejza and Dan Cullen are all experimenting with the delivery in the nets. Cullen, the 25-year-old South Australian who has played one Test, has boasted of having mastered the art, but Hauritz said no one had ever seen it.
- The Age