Sports
---
Arjun kicks Pathana to submission
By M. Shamil Amit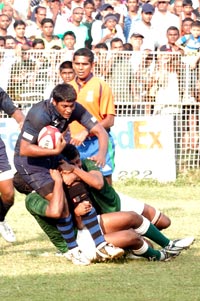 Thomians on the rampage in the second half. (Pic by Ranjith Perera

S.Thomas' who missed out in their second half rally in the encounter against traditional rivals Royal in the previous game got it right this time to defeat the strong Isipathana side by 28-12 in their inter-school rugby encounter played at Havelock Park yesterday.

The Thoras trailing 3-12 at the breather came back with a vengeance to post a further 25 points in the second half as against nothing to the Patanas. The Thomians in the process accumulated their points through two goals, one try and three penalties to Isipthana's one goal and a try.

In fact it was their full back Arjun Manoharan who was their hero as he secured crucial points for his team. He was responsible in booting over the three penalties and then making a conversion contributing 11 points. The Thomians drew first blood when in the third minute Arjun got them ahead by booting over a penalty.

The Thomians in this half attacked with cohesion but they lacked the finish which was needed the most. The Isipathanians on the other hand made use of the opportunities they received as they made their first move in the 16th minute with winger and play maker Vishwajith Jayasinghe going past several Thomians defenders to complete a try under the post giving full back Prasad Devinda an easy kick at goal.

The Patanas increased the lead 11 minutes later through a try from prop forward Tharindu Seneviratne but missed out on the conversion. This gave the Patanas a 12-3 lead at which time referee Aruna Jayasekera blew the short whistle.

Other matches at a glance:
Royal 39 -SACK 6
SJC 27 - Trinity 24
SPC 61 - D'Raja 0

The turn around saw the Thomians making waves of moves and succeeded through a try from centre William Rudra with Arjun adding the extra points. They continued the domination and then surged ahead with a penalty booted over by Arjun.

Isipathana though being rattled in this session failed to take advantage of taking the lead as they missed easy scoring opportunities due to poor ball handling and adding to that fluffed a penalty that was offered. The Thomians undeterred came back and their hero Arjun put them further ahead making no mistake with a penalty offered in the 26th minute.

Thomian prop forward Amrik Andrado almost hit the nail in the coffin seven minutes away from the finish with a peach of a try from a melee with again Arjun making no mistake with the conversion. Number 8 Rajindra Gunasekera put the issue beyond doubt by going over for a try down the left corner flag with seconds from the final whistle but this time Arjun was unlucky as his kick at goal which was a difficult one struck the goal post. Nevertheless the Thoras were assured of victory with this final try.
|
E-mail
|
views[

1

]