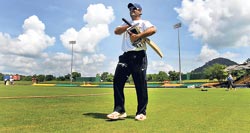 Rangiri Dambulla Stadium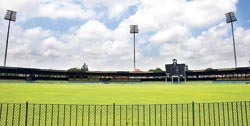 Premadasa Stadium. Pix by Sanka Vidanagama
The 2011 version of the Cricket World Cup has got on to the highway in earnest with the ICC deciding that the matches will be confined to Sri Lanka, India and Bangladesh. Pakistan which was the fourth host was dropped by the world body owning to security concerns.

With the latest move, Sri Lanka will host 12 World Cup matches which will include one semi-final while India will have its share of 29 matches which will have a semi-final and the final and Bangladesh the opening ceremony and eight matches.

So far in Sri Lanka the grounds that are allocated are – the Premadasa Stadium, Rangiri Dambulla Stadium and the SSC grounds. These grounds have already got the nod from the ICC.
Though the lights are not mandatory, a tournament of this magnitude needs grounds with the best facilities. However, both the Premadasa Stadium, and the Rangiri Dambulla Stadium are having problems with hosting day-night matches as both these venues are facing lighting problems. According to a cricket insider, the renovations to the lighting system at the Premadasa Stadium would cost around Rs 50-60 million and Rs. 80-100 million at the Rangiri Dambulla Stadium.
It is also learned that Sri Lanka may fail in its bid to host the matches at a venue in Southern Sri Lanka.. After their ghastly experience at the newly built grounds in the West Indies during the last World Cup the ICC authorities are fighting shy of accommodating untested facilities as world cup venues.
Earlier, when Sri Lanka cricket officials told the ICC that a venue in the south was being prepared, possibly for a world cup match, ICC officials advised them that all World Cup venues should have had at least 18 months of cricket.
However, with only 22 months to go for the World Cup, it is very unlikely that a ground could be constructed and have more than 18 months of cricket played on it.In a recent interview with The Sunday Times, Sports Minister Gamini Lokuge revealed that moves were afoot to build a new cricket stadium in Meegahajandura in the Hambantota District and they hoped to host the World Cup semi-final there.
It is also reported that the Lankan authorities were taking a very close look at developing the partly-built Pallekelle Stadium as a world cup venue, but, the time availability is a huge question at hand.