A bill is to be presented in Parliament to introduce a demerit point system for traffic offences under the new smart-card driving licence, Deputy Commissioner of Department Of Motor Traffic, W. M. A. Wijekoon said.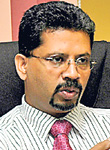 Wijekoon
"We are drawing up plans for a demerit point system to be implemented and within the next three months we hope to bring it into effect by submitting it to Parliament as a bill," he said.
According to the new system a total of 70 points would be given to an individual when they obtain their licence and for each offence committed a number of points would be deducted from the total.
The points to be deducted would depend on the scale of the offence which is being drawn up, he said. He also said the spot fine system would continue.
However, authorities are trying to come up with a solution where accidents go unreported to police and are settled privately or through insurance companies. In such a case a driver who causes a major accident may go unreported as a traffic offence in the demerit system where as a minor offender who is reported to the police may have his/her points deducted.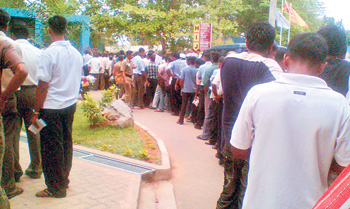 Long queues at the Motor Traffic Department
In addition to this demerit scheme, drivers of public vehicles would need a special licence that would be issued on passing a special examination. "The examination would be designed to assess whether a person is suitable to drive a vehicle transporting passengers. Although this is new to us, these procedures are common in many developed countries," Mr. Wijekoon said.
The Motor Traffic Department is also planning to introduce a driver rehabilitation programme that would assist offenders whose licence had been cancelled, to regain them.
"The programme would be aimed at giving offenders a comprehensive training that would cover practical, medical, psychological and educational areas before he/she goes behind the wheel again," he said.
Service not so smart!
Long queues were seen at the Motor Traffic Department Werahara complex, with authorities being unable to cope with the public's demand for the new smart card driving licence. Many dejected people who had come all the way from Ratnapura and Matara were turned away as the service centre could only admit 500 individuals a day. Some who stood in the queue till about 11 a.m. had to be satisfied with getting a number for an appointment only for the following day.
"This is the third day I came to Werahara to renew my licence and this time too I was unsuccessful. I was given a token for tomorrow. However, if I take one more day's leave I will not be entitled for bonus," an individual who declined to be named said.
According to Mr. Wijekoon this situation arose because the department could not issue licences for 7 days, due to the transition from the old system to the new.
"We had to stop processing applications and renewals from March 20 to March 27 as we were switching from the old system to the new and people were asked to come after the 30th. As a result there was a surge in the demand and we were unable to cope with it.
However, he said the situation was now normalising. "About 3000 people come here daily. We have tried our best to make this a pleasant experience unlike than at any other government office. However, we need about 20 more additional staff to make this a smooth transition," Mr. Wijekoon said.