NEW DELHI, March 14, (AFP) - Indian bookmakers are backing incumbent Premier Manmohan Singh for a second term in office ahead of general elections due to kick off in mid-April, a report said Saturday.
Economist Singh, 76, has an edge over opposition prime ministerial candidate Lal Krishna Advani and other aspirants including Mayawati Kumar, darling of millions of Dalits at the bottom of India's rigid Hindu caste hierarchy, the Times of India reported.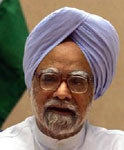 Manmohan Singh
The paper, quoting an unidentified law enforcement official, said leading bookies had reinforced their network in India and abroad in preparation for the polls set to take place from April 16 to May 13.
"These bookies follow political developments very closely and have their own informants in major political parties," the official was quoted as saying.
"Millions of dollars will have been wagered by the time the first phase of the polls start," he said. Singh is given the highest chance of becoming prime minister again with bookies quoting odds of two-and-a-half to one.
The odds on Hindu nationalist Bharatiya Janta Party (BJP) leader L.K. Advani becoming prime minister are five to one. Mayawati faces much longer odds of 25 to one in her quest to become prime minister.
The 123-year-old Congress party and its allies are expected to win 201 seats in the 543-member directly-elected lower house of parliament, according to a Times of India prediction last week.
Advani's BJP and its partners are forecast to win 195 seats while a "third front" of nine regional and left-leaning parties are expected to take 82 seats.